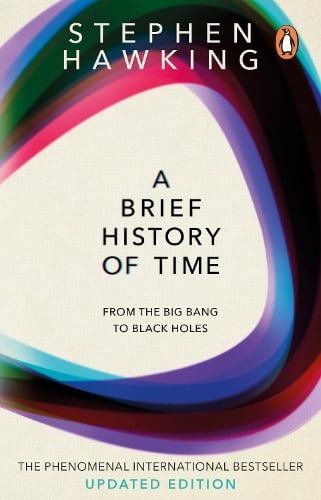 A Brief History Of Time: From Big Bang To Black Holes
Paperback 
Published on: 18/08/2011
Synopsis
Was there a beginning of time? Could time run backwards? Is the universe infinite or does it have boundaries? These are just some of the questions considered in an internationally acclaimed masterpiece by one of the world's greatest thinkers. Following his passing in March 2018, Stephen Hawking's A Brief History of Time will continue to forever stand as his gift to the world. Few books have carried such a siesmic impact, opening millions of minds to the deep cosmos in language that is both succinct and clear.  It begins by reviewing the great theories of the cosmos from Newton to Einstein, before delving into the secrets which still lie at the heart of space and time, from the Big Bang to black holes, via spiral galaxies and strong theory. This edition includes updates from Stephen Hawking with his thoughts about the No Boundary Proposal and offers new information about dark energy, the information paradox, eternal inflation, the microwave background radiation observations, and the discovery of gravitational waves. It was published to accompany the launch of a new app, Stephen Hawking's Pocket Universe. One of the most brilliant theoretical physicists since Einstein, Professor Stephen Hawking was the former Lucasian Professor of Mathematics at the University of Cambridge. His bestselling publications included: A Brief History of Time, The Grand Design, A Briefer History of Time as well as a series of books for children, co-authored with his daughter Lucy Hawking, beginning with George's Secret Key to the Universe.
Publisher:

Transworld Publishers Ltd

ISBN:

9780857501004

Number of pages:

272

Weight: 216g
Dimensions:

198 x 127 x 17 mm

an amazing and inspiering book
My heart raced like there was no tomorrow In excitement to know what lies ahead. I couldn't put the book down it was like a force shield pushing against me...
READ MORE


One for the Stephen Hawking blind support crew
OK, I assume it. I became so intrigued with the character that Stephen Hawking is, that far before the hype of his image 'exploitation' in the American TV ...
READ MORE


A Brief History Of Time
I have to be honest I was expecting a much easier, no a freer flowing read that what this actually was, given how much people rave about this book. Yes Haw...
READ MORE




Superbly informative and challenging
This is one of those books whose reputation precedes it. You have to approach it as you would a book about whose author you know very little. The book do...
READ MORE