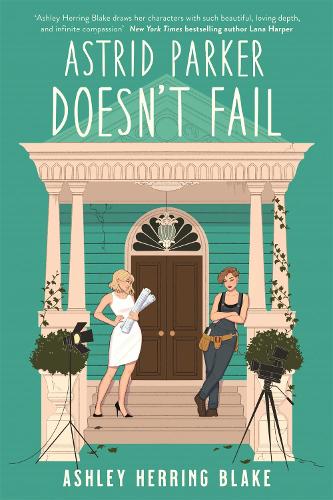 Astrid Parker Doesn't Fail
Ashley Herring Blake

(author)
Paperback 
Published on: 22/11/2022

Cute and Heaps of Fun
Thank you to Netgalley and the publisher for providing an eArc of this book to review. This book was cute and heaps of fun, and original in the sense that...
READ MORE


Bright Falls Romance
I enjoyed this, although not quite as much as Delilah Green, it was a fun read with some interesting characters. I liked the personal development that Astr...
READ MORE

Synopsis
An interior designer who is never without the perfect plan learns to renovate her love life without one in this new romantic comedy by Ashley Herring Blake, author of Delilah Green Doesn't Care. Perfect for fans of Alexandria Bellefleur, Casey McQuiston and Rosie Danan. For Astrid Parker, failure is unacceptable. Ever since she broke up with her fiance a year ago, she's been focused on her career. So when Pru Everwood asks her to be the designer for the Everwood Inn's renovation, which will be featured on a hugely popular home makeover show, Astrid is thrilled. Not only will the project distract her from her failed engagement and help her struggling business, but her perpetually displeased mother might finally give her a nod of approval. However, Astrid never planned on Jordan Everwood, Pru's granddaughter and the lead carpenter for the renovation, who despises every modern design decision Astrid makes. Jordan is determined to preserve the history of her family's inn, particularly as the rest of her life is in shambles. When that determination turns into some light sabotage to ruffle Astrid's perfect little feathers, the showrunners ask them to play up the tension. But somewhere along the way, their dislike for each other evolves into something quite different, and Astrid must decide what success truly means. Is she going to pursue the life that she's expected to lead or the one that she really wants?
Publisher:

Little, Brown Book Group

ISBN:

9780349432588

Number of pages:

400

Weight: 280g
Dimensions:

196 x 126 x 32 mm

Ashley Herring Blake writes such great romance!
Thank you to Netgalley and the publisher for providing me with a free eARC in exchange for an honest review! Ashley Herring Blake writes such great romanc...
READ MORE


5 STARS
An absolutely stand-out sequel to Delilah Green Doesn't Care that perfectly builds hate-to-love tension, creates characters that feel real and well-rounded...
READ MORE


fluffy, warm and so enjoyable
desperately needed some light hearted gay romcom to ease me back into reading