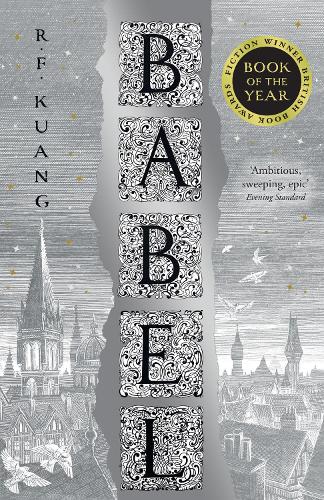 Babel: Or the Necessity of Violence: an Arcane History of the Oxford Translators' Revolution
Paperback 
Published on: 28/09/2023
Synopsis
A new dark academic fantasy by the New York Times bestselling author of The Poppy War. Traduttore, traditore: An act of translation is always an act of betrayal. Oxford, 1836. The city of dreaming spires. It is the centre of all knowledge and progress in the world. And at its centre is Babel, the Royal Institute of Translation. The tower from which all the power of the Empire flows. Orphaned in Canton and brought to England by a mysterious guardian, Babel seemed like paradise to Robin Swift. Until it became a prison... but can a student stand against an empire? An incendiary new novel from award-winning author R.F. Kuang about the power of language, the violence of colonialism, and the sacrifices of resistance.
Publisher:

HarperCollins Publishers

ISBN:

9780008501853

Number of pages:

560

Weight: 380g
Dimensions:

198 x 129 x 40 mm

Say goodbye to the person you were before because now you're cultured
It was eye-opening, it was gripping, it was moving, it was many adjectives. Rebecca Kuang has a wonderful way of making you fall in love with the character...
READ MORE


No words for a book crafted about the power of words
Honestly the most beautiful and tragic book I have read this year. So incredibly crafted and realistic in a way that left me questioning what is the true h...
READ MORE