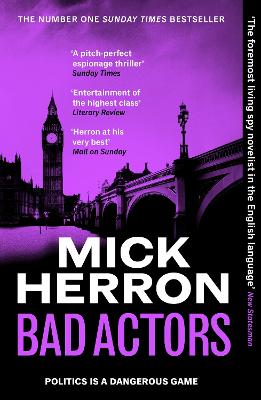 Bad Actors
Paperback 
Published on: 13/04/2023
Synopsis
A key member of a Downing Street think-tank has disappeared without a trace. Claude Whelan, one-time First Desk of MI5's Regent's Park, is tasked with tracking her down. But the trail leads straight back to Regent's Park HQ itself, with its chief, Diana Taverner, as prime suspect. Meanwhile her Russian counterpart has unexpectedly shown up in London but has slipped under MI5's radar. Over at Slough House, the home for demoted and embittered spies, the slow horses are doing what they do best: adding a little bit of chaos to an already unstable situation. In a world where lying, cheating and backstabbing is the norm, bad actors are bending the rules for their own gain. If the slow horses want to change the script, they'll need to get their own act together before the final curtain.
Publisher:

John Murray Press

ISBN:

9781529378726

Number of pages:

400

Weight: 321g
Dimensions:

196 x 128 x 28 mm

Mick Herron never disappoints.
"… the role of the slow horses is to embrace unfulfillment and boredom, to look back in disappointment, stare round in dismay, and understand that life is ...
READ MORE


Unashamedly Entertaining
Not the book to start with, obviously, but as the eighth in a series this doesn't disappoint. Apart from Lamb, it doesn't really do to have a favourite am...
READ MORE