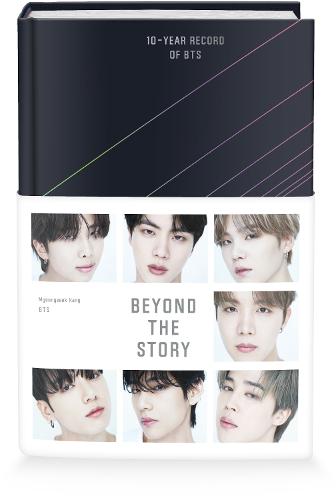 Beyond the Story: 10 Year Record of BTS
BTS

(author)
,
Myeongseok Kang

(author)
Hardback 
Published on: 09/07/2023

BTS, you know?
I have read two biographies this year. The first was 'Austen at Home' by Lucy Worsely, and the second is this. The BTS biography. That is what we call R...
READ MORE


Phenomenal
This oral history/biography of the world's greatest stars is an absolute must-have and must-read for anyone interested in pop culture.


Honest, Impressive and Heartwarming
BTS bares all in this expansive look at their unprecedented rise to the top. For people who don't know where they come from, this is an eye opening expe...
READ MORE

Synopsis
THE FIRST EVER OFFICIAL BOOK Published in celebration of BTS's 10th Anniversary, stories that go beyond what you already know about BTS, including unreleased photos, QR codes of videos, and all album information. After taking their first step into the world on June 13, 2013, BTS will celebrate the 10th anniversary of their debut in June 2023. They have risen to the peak as an iconic global artist and during this meaningful time, they look back on their footsteps in the first official book. In doing so, BTS nurtures the power to build brighter days and they choose to take another step on a road that no one has gone before. BTS shares personal, behind-the-scenes stories of their journey so far through interviews and more than three years of in-depth coverage by Myeongseok Kang, who has written about K-pop and other Korean pop culture in various media. Presented chronologically in seven chapters from before the debut of BTS to the present, their vivid voices and opinions harmonize to tell a sincere, lively, and deep story. In individual interviews that have been conducted without a camera or makeup, they illuminate their musical journey from multiple angles and discuss its significance. In addition, portrait photos that show BTS as individuals and artists open the book, and throughout there are concept photos, tracklists of all previous albums, and over 330 QR codes. As digital artists, BTS has been communicating with the world through the internet and this book allows readers to immediately access trailers, music videos, and more online to have a rich understanding of all the key moments in BTS history. Complete with a timeline of all major milestones, Beyond the Story is a remarkable archive -truly everything about BTS in one volume.
Publisher:

Pan Macmillan

ISBN:

9781035031542

Number of pages:

544

Weight: 1202g
Dimensions:

237 x 165 x 44 mm

Best book of the Year!
If the book starts with "We are now going to progress to some steps which are a bit more difficult" I WILL SOB.


Bangtan Sonyeondan
I can already tell this is going to be incredible, I can't wait to read it


Question
Does it have any gifts or it's just the book? (i don't have the book yet that's why I gave 5 stars)


Not the real BTS story
As a long time Army I couldn't wait to receive this but I'm so disappointed in how it is written and how some of the members are portrayed. Taehyung comes ...
READ MORE


Do You Know BTS?
How could you not!!!!!!?????????? Borahae!!!!!!!!! Apobangpo 아포방포 !!!!!!!!!!!