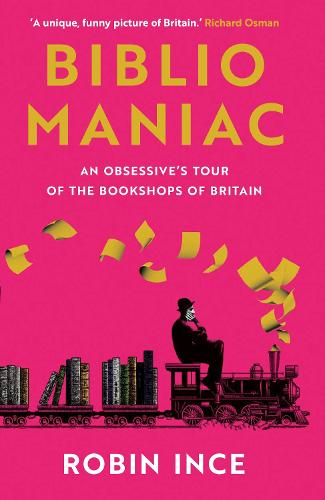 Bibliomaniac: An Obsessive's Tour of the Bookshops of Britain
Hardback 
Published on: 06/10/2022
Synopsis
Why play to 12,000 people when you can play to 12? In Autumn 2021, Robin Ince's stadium tour with Professor Brian Cox was postponed due to the pandemic. Rather than do nothing, he decided instead to go on a tour of over a hundred bookshops in the UK, from Wigtown to Penzance; from Swansea to Margate. Packed with witty anecdotes and tall tales, Bibliomaniac takes the reader on a journey across Britain as Robin explores his lifelong love of bookshops and books - and also tries to find out just why he can never have enough of them. It is the story of an addiction and a romance, and also of an occasional points failure just outside Oxenholme.
Publisher:

Atlantic Books

ISBN:

9781838957698

Number of pages:

320

Weight: 429g
Dimensions:

216 x 135 x 22 mm

A funny and fascinating account of an unusual bookshop tour of Britain
Many of us can claim to be obsessed by books, even though it's true, in my opinion, that you can never have too many books. While at the beginning of this ...
READ MORE


'Books define me'
This is a heartwarming book. Robin Ince decides to tour 100 independent bookshops (in the end his tally is 104) to talk about his previous book, and detail...
READ MORE