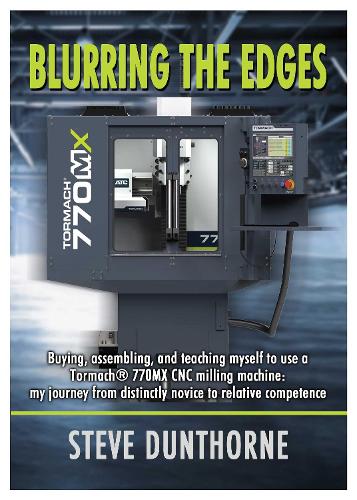 Blurring the Edges.: Buying, assembling, and teaching myself to use a 770MX Tormach® CNC milling machine. My journey from distinctly novice to relative competence.
Paperback 
Published on: 20/04/2022
Synopsis
The author is a somewhat frustrated 'weekend engineer' with a small lathe and an old manual milling machine in his garage, whose day job doesn't reflect his passion for making mechanical things. A chance discussion with a colleague culminated in him ordering a brand-new CNC (Computerised Numerical Control) mill from the USA. The machine is a Tormach® 770MX, a model aimed unashamedly at the high end of the hobbyist market, and certainly attracting the attention of small independent manufacturing 'start-ups', particularly in the United States. This book records his journey of getting to grips with assembling all the components and learning how to operate the machine. It is purposely not an instruction manual – the manufacturer has already seen to that need. It is more a chronological log of all processes from choosing the right machine through to getting it to make parts. Taking the not insignificant leap from manual machining to CNC manufacturing, in the domestic environment, is a steep learning curve and this book is intended to assist, with many top tips gleaned from 'learning the hard way', shared throughout. There are other excellent books out there, some mainly theoretical references, some siding with historical interest. The author envisaged a need for something more practical and hands-on. When he began his project, he couldn't find a book like this.
Publisher:

i2i Publishing

ISBN:

9781914933301

Dimensions:

235 x 165 mm