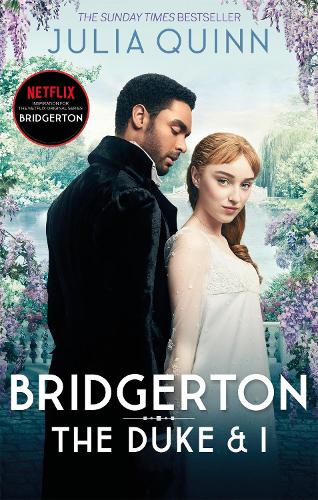 Bridgerton: The Duke and I (Bridgertons Book 1)
Paperback 
Published on: 01/12/2020

Regency romance at its best
Julia Quinn has written an amazing series with her Bridgertons'. In this, her first, we meet Daphne and Simon. Daphne is the 4th Bridgerton, but the first...
READ MORE


A Regency romp!
I thoroughly enjoyed the Netflix adaptation so thought I would give the books a try. I was not disappointed, I was in fact very impressed. The book made me...
READ MORE

Synopsis
From New York Times bestselling author Julia Quinn comes the first novel in the beloved Regency-set world of her charming, powerful Bridgerton family, now a series created by Shonda Rhimes for Netflix. In the ballrooms and drawing rooms of Regency London, rules abound. From their earliest days, children of aristocrats learn how to address an earl and curtsey before a prince - while other dictates of the ton are unspoken yet universally understood. A proper duke should be imperious and aloof. A young, marriageable lady should be amiable . . . but not too amiable. Daphne Bridgerton has always failed at the latter. The fourth of eight siblings in her close-knit family, she has formed friendships with the most eligible young men in London. Everyone likes Daphne for her kindness and wit. But no one truly desires her. She is simply too deuced honest for that, too unwilling to play the romantic games that captivate gentlemen. Amiability is not a characteristic shared by Simon Basset, Duke of Hastings. Recently returned to England from abroad, he intends to shun both marriage and society - just as his callous father shunned Simon throughout his painful childhood. Yet an encounter with his best friend's sister offers another option. If Daphne agrees to a fake courtship, Simon can deter the mamas who parade their daughters before him. Daphne, meanwhile, will see her prospects and her reputation soar. The plan works like a charm-at first. But amid the glittering, gossipy, cut-throat world of London's elite, there is only one certainty: love ignores every rule . . .
Publisher:

Little, Brown Book Group

ISBN:

9780349429212

Number of pages:

352

Weight: 244g
Dimensions:

196 x 126 x 28 mm

Misleading Cover
Do not purchase this book if you think it will be similar to the fantastic Netflix series and you were drawn by the fantastic casting. The diversity in th...
READ MORE


Easy, fun read
Easy, fun read - finished it in a day. There is one rather uncomfortable scene that I can't imagine would be treated nowadays as it was when this was first...
READ MORE


Hard to put down!
Ordered this after binge watching the Netflix season 1, it arrive Friday and I had finished it by Saturday. Such a lovely book, easy to read and I cannot w...
READ MORE


A jolly entertaining romp!
What fun and highly enjoyable read during these rather monotone times! It does differ from the television programme but it is an engaging and fun read


Conflicted
I should start off by saying that I have never been so conflicted on how to rate a book before. Majority of the aspects of the book I adore, however there ...
READ MORE


If you enjoyed it on Netflix, you'll like it
I bought this after watching the series on Netflix. I think I got through it in 3 days and really enjoyed it. Think Gossip Girl but as a period piece and t...
READ MORE


A fairly basic read
I was disappointed with this book I found the writing and storyline very simplistic; expecting twists and turns in the story that didn't exist! (There's n...
READ MORE


A delight to read
I didn't expect too much from this as I watched the show before reading the book, but I think the show did a really good adaptation as it wasn't too far of...
READ MORE


Funny and cringeworthy
I rate this 3.5. I usually don't enjoy pure romance genre, I read this because this is book of the month for the book club I joined. I was especially reluc...
READ MORE


Spoilt by a horrible plot point
For the majority, I enjoyed this book for what it essentially is; a trashy regency-era romance. I will, however, agree with other reviewers that the r*pe s...
READ MORE


Different from the Netflix series but still enjoyable!
After watching the Netflix series, I decided to collect the books and see how the author's original stories panned out. While it differs from the TV series...
READ MORE


Surprisingly enjoyable
3.5 stars I went into this book and series as a whole thinking I may not enjoy it but was open to giving it a try. I'm so glad I did as I am really enjoyi...
READ MORE


An easy, enjoyable read
I watched both seasons of the show first, and then decided I'd read the books to gather more detail ahead of season 3. I didn't regret it! This series i...
READ MORE


SPOILERS ARE INCLUDED !!!
THIS DOES CONTAIN SPOILERS !!!! If I could, I would generally rate this a 3.5/5. If people haven't watched the show yet, they probably wouldn't know...
READ MORE