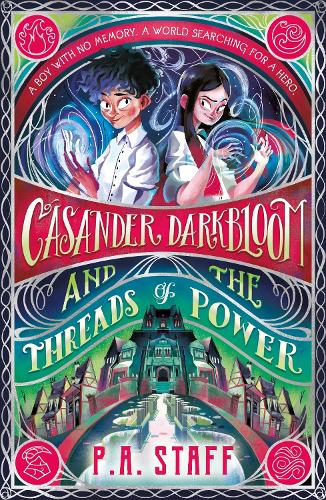 Casander Darkbloom and the Threads of Power
Paperback 
Published on: 02/11/2023
Synopsis
The first in an extraordinary middle-grade fantasy series that takes the traditional "chosen one" narrative and flips it on its head. Think Nevermoor and The School for Good and Evil, but with a thrilling twist! A boy with no memory. A world searching for a hero. Casander Darkbloom has no memory, lives outside a curiosity shop, and experiences random surges of uncontrollable energy in his limbs. When he inexplicably brings a stuffed raven to life, he unravels a strange and thrilling magical world. A world waiting for Cas to save it. Cas is the Foretold, the one prophesied to defeat the malevolent Master of All. Under the protection of Wayward School, Cas must learn to master his magical abilities. But, as he soon discovers, all may not be quite as it seems – and Cas will need to take control of his own destiny if he is to find the strength to fight the powers of evil. Spectacular and imaginative, this thrilling fantasy novel celebrates difference and how what makes us unique is also our greatest strength.
Publisher:

Walker Books Ltd

ISBN:

9781529506280

Number of pages:

384

Weight: 261g
Dimensions:

198 x 129 x 21 mm

A cracking magical fantasy for middle grade readers
As a young child, the anticipation of special events such as Christmas or my birthday was what Mr S describes as pleasantly painful – the countdown to some...
READ MORE


Embracing Your Differences
When I tell you I finished this book in one sitting, that only tells you part of the story. I haven't been able to concentrate enough to read for over a mo...
READ MORE