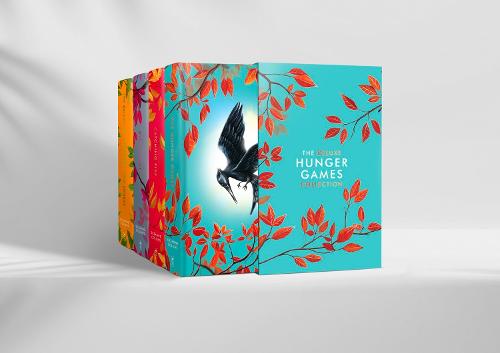 Deluxe Hunger Games Collection
Hardback 
Published on: 26/10/2023
Synopsis
This beautiful deluxe hardcover box set includes all three books in Suzanne Collins's internationally bestselling Hunger Games trilogy together with The Ballad of Songbirds and Snakes. With brand new artwork by Freya Betts: this is a must-have collection for all fans of this groundbreaking, phenomenally bestselling series. There is only one rule: kill or be killed. In the ruins of a place once known as North America lies the nation of Panem, a shining Capitol surrounded by twelve outlying districts. The Capitol keeps the districts in line by forcing them all to send one boy and one girl between the ages of twelve and eighteen to participate in the annual Hunger Games, a fight to the death on live TV... And the odds are against all who play. With all four of Suzanne Collins's Hunger Games novels in one box set, you can step into the world of Panem with the 10th annual Hunger Games, and continue all the way to the electrifying conclusion. All four books have been made into feature films, the first three starring Jennifer Lawence, Liam Hemsworth, Josh Hutcherson, Stanley Tucci, Elizabeth Banks and Donald Sutherland. The fourth movie of The Ballad of Songbirds and Snakes, is released November 2023 and has an all-star cast including Tom Blyth, Rachel Zegler, Viola Davis and Peter Dinklage. Books included in the box set: The Hunger Games, Catching Fire, Mockingjay and The Ballad of Songbirds and Snakes. To celebrate the release of Ballad of Songbirds and Snakes feature film, Freya Betts has taken the four iconic logos and added a modern twist. Freya is a UK based freelance illustrator who focuses on hyper-realistic portraiture, mainly in the medium of digital painting.
Publisher:

Scholastic

ISBN:

9780702333026

Number of pages:

1870

Weight: 3240g
Dimensions:

164 x 248 x 178 mm
Books out of stock everywhere
Have tried searching every Waterstones in Scotland and lots in England using the click & collect feature, as these books are only available by doing so, bu...
READ MORE

Sold out
Christmas cancelled, can't get a copy.

Beautiful Books But...
This collection is absolutely beautiful in person; however, upon inspection, the back two corners of the box set were slightly crushed, and the upper and b...
READ MORE

Absolutely gorgeous set
Zero issues with shipping- this one arrived in perfect order. The set is stunning and even has leaves illustrated randomly throughout.

Absolutely gorgeous!!!
These are sooo much more beautiful in person!!! The pictures don't do it justice, I learned about these from tiktok and they are so lovely!! Shipping was g...
READ MORE