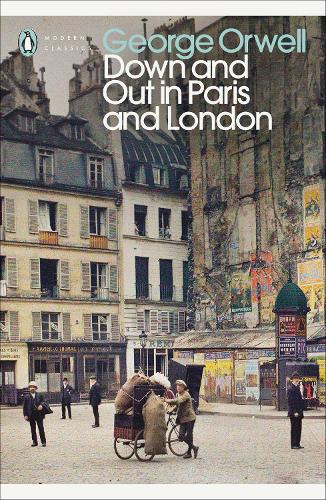 Down and Out in Paris and London
Paperback 
Published on: 27/09/2001
Synopsis
George Orwell's vivid memoir of his time living among the desperately poor and destitute, Down and Out in Paris and London is a moving tour of the underworld of society. 'You have talked so often of going to the dogs - and well, here are the dogs, and you have reached them.' Written when Orwell was a struggling writer in his twenties, it documents his 'first contact with poverty'. Here, he painstakingly documents a world of unrelenting drudgery and squalor - sleeping in bug-infested hostels and doss houses of last resort, working as a dishwasher in Paris's vile 'Hôtel X', surviving on scraps and cigarette butts, living alongside tramps, a star-gazing pavement artist and a starving Russian ex-army captain. Exposing a shocking, previously-hidden world to his readers, Orwell gave a human face to the statistics of poverty for the first time - and in doing so, found his voice as a writer.
Publisher:

Penguin Books Ltd

ISBN:

9780141184388

Number of pages:

256

Weight: 191g
Dimensions:

198 x 129 x 15 mm

Phenomenal
Down and Out in Paris and London is an eye opening account from George Orwell that really makes you think - from something so simple as how one will never ...
READ MORE


Swarming Cockroaches and Sneering Waiters
An example of factual storytelling at its best. George Orwell manages to make his daily struggles to earn a living in Paris and London feel really quite in...
READ MORE


plongeur
The patron was not mean about drink , he allowed us two litres of wines a day knowing that if a plongeur is not given litres he will steal three.


Makes you appreciate your lot
Orwell's first publication takes us on a journey of poverty through 1930's Paris and London. There's some memorable lines and phrases which stick with yo...
READ MORE