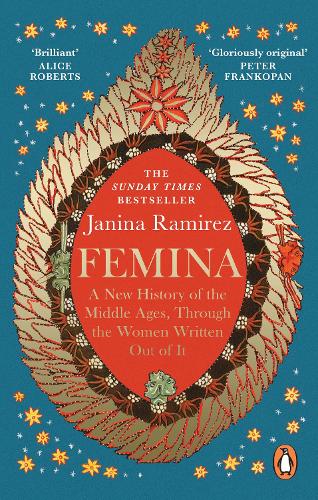 Femina
Paperback 
Published on: 30/03/2023

Incredible history about incredible women by an incredible writer!
This was everything to me. Women's history is a great passion of mine and Janina Ramirez has truly brought it to the masses. The accessibility of the infor...
READ MORE


Enjoyable and informative revisionist history!
I am a history lover with a keen interest in the middle ages, but I still found this book eye-opening. Ramirez takes the stories of various women living wi...
READ MORE

Synopsis
Extraordinary women have held positions of power throughout history. But, aside from the select few, why do we not hear about them? The middle ages are seen as a bloodthirsty time of Vikings, Saints and Kings: a patriarchal society that oppressed and excluded women. But by digging a little deeper into the truth, drawing on evidence from all disciplines, we can see that the 'dark' ages were anything but. BBC historian Janina Ramirez has uncovered countless influential women's names struck out of historical records, with the word 'Femina' annotated beside them. Male gatekeepers of the past ordered books to be burnt, artworks to be destroyed, and new versions of myths, legends and historical documents to be produced, which has manipulated our view of history. By weaving a vivid and evocative picture of the lives of the women who influenced their society, we discover not just why these remarkable individuals were removed from our collective memories, but also how many other misconceptions underpin our historical narratives, altering the course of history, upholding the oppressive masculine structures of their present, and affecting our contemporary view of the past.
Publisher:

Ebury Publishing

ISBN:

9780753558263

Number of pages:

464

Weight: 312g
Dimensions:

198 x 126 x 27 mm

A different view
Janina Ramirez brings all her enthusiasm and expertise to this different version of early medieval history. For too long women in history have been sideli...
READ MORE


Puts these women back in the history books where they belong!
Truly astonishing... clears away the mist of Medieval preconceptions. Emotional, striking and inspiring. Incredible in-depth research, and a wealth of cont...
READ MORE


Nonbinary what?
This book does focus on men a lot and talk about nonbinary people in the last chapter, not women. Skip.