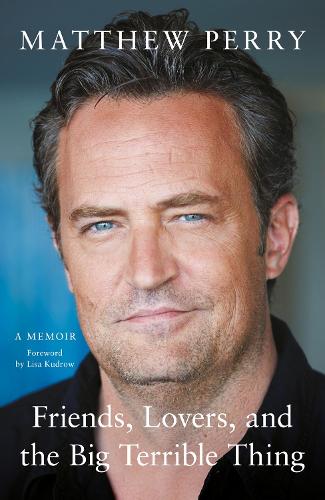 Friends, Lovers and the Big Terrible Thing
Hardback 
Published on: 01/11/2022
Synopsis
The beloved star of Friends takes us behind the scenes of the hit sitcom and his struggles with addiction in this candid, funny, and revelatory memoir that delivers a powerful message of hope and persistence. In an extraordinary story that only he could tell, Matthew Perry takes readers onto the soundstage of the most successful sitcom of all time while opening up about his private struggles with addiction. Candid, self-aware, and told with his trademark humour, Perry vividly details his lifelong battle with the disease and what fuelled it despite seemingly having it all. Friends, Lovers, and the Big Terrible Thing is an unforgettable memoir that shares the most intimate details of the love Perry lost, his darkest days, and his greatest friends. Unflinchingly honest, moving, and hilarious: this is the book fans have been waiting for.
Publisher:

Headline Publishing Group

ISBN:

9781472295934

Number of pages:

272

Weight: 560g
Dimensions:

238 x 158 x 32 mm

I just want to give him a big hug
I got this book as a Christmas present from my boyfriend. As soon as I heard Mathew Perry was bringing out a book I knew I had to have it and give it a rea...
READ MORE


Heavy going but worth it
I ploughed through this book in 3 days, I needed to take breaks as it's heavy going and I really connected with this topic. As a child of an alcoholic and ...
READ MORE


Read of the decade!
I soon as I saw that book I had the feeling : Got to buy it is going to be great! I was right , absolutely great book , insightful and honest . Full of s...
READ MORE


Get to know him…love him…
Before the book he was just Chandler Bing from FRIENDS, however, the language of the book made me feel everything he felt deeply. Sincere, thoughtful, hear...
READ MORE


Very happy I've read it
As soon as I heard about this book I got it on pre-order. Loved it, read it in one day. A must read for any fan or anyone going through struggles