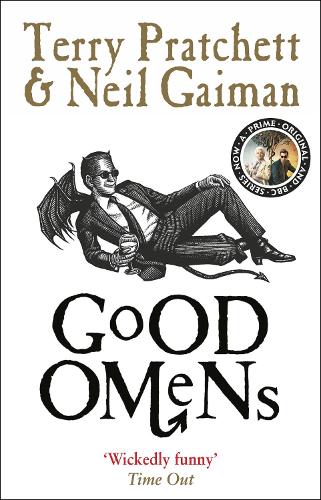 Good Omens
Neil Gaiman

(author)
,
Terry Pratchett

(author)
Paperback 
Published on: 11/12/2014

Brilliant! Excellent! Wonderful!
The world is coming to an end. Soon. Next Saturday, just before dinner… Heaven and Hell's armies are gathering, tempers are flying all over the place, A...
READ MORE


An All Time Favourite
"Good Omens" has easily become one of my all time favourite books. It's one of those stories that you can go back to again and again and rediscover witty b...
READ MORE

Synopsis
A landmark collaboration between two of Britain's greatest authors, Terry Pratchett and Neil Gaimain, Good Omens is now a major television series starring Michael Sheen and David Tennant Armageddon only happens once, you know. They don't let you go around again until you get it right. According to the Nice and Accurate Prophecies of Agnes Nutter, Witch - the world's only totally reliable guide to the future, written in 1655, before she exploded - the world will end on a Saturday.  Next Saturday, in fact. Just after tea... People have been predicting the end of the world almost from its very beginning, so it's only natural to be sceptical when a new date is set for Judgement Day. This time though, the armies of Good and Evil really do appear to be massing. The four Bikers of the Apocalypse are hitting the road. But both the angels and demons - well, one fast-living demon and a somewhat fussy angel - would quite like the Rapture not to happen. Oh, and someone seems to have misplaced the Antichrist...
Publisher:

Transworld Publishers Ltd

ISBN:

9780552171892

Number of pages:

416

Weight: 280g
Dimensions:

196 x 126 x 38 mm

Chuckle and snort your way to the end of times
Well, what can I say about this book other than it is just utterly awesomely hilarious. The combination of wit, humour and inventiveness of Pratchett and ...
READ MORE


Way better than the program!
I watched the Good Omens program twice, I loved it. When I found out there was a book, I knew I had to get it. It's highly addictive and I really love how ...
READ MORE


Wonderful
This is the only Terry pratchett book I still own after stopping reading him around the year 2000. This collaboration with Neil gaiman I kept. I love this ...
READ MORE


A Fun Collaboration
I enjoyed this book immensely. It will surprise no one to know that a book by Sir Terry Pratchett and Neil Gaiman is very well written and extremely funny....
READ MORE


Simply brilliant!
I have read Good Omens now five times in 14 years and every time again I laugh my ass off. I will never get tired of this little book, because never ever h...
READ MORE


Best book I've ever read!
This book never fails to make me laugh out loud. Brilliant collaboration between Sir Terry Pratchett and Neil Gaiman. Give it a try, you won't be disappoin...
READ MORE


Absolutely Incredible
Absolutely hilarious and such an incredible story! A must-read!


Brilliant
Honestly one of my favourite books ever! Both authors do an absolutely amazing job on writing the while book and you can tell that they had fun writing it!...
READ MORE


A must-read
So so funny I've read this book 3 times and have loved it every single time. Terry Pratchett and Neil Gaiman are masters of their craft


Agnes Nutter you are my favourite.
When in doubt read this book. I'd your feeling sad read this book. It's the end of the world there's been a baby switch up at the hospital. A dem...
READ MORE


Must Read
Fantastic . The greatest adventure. I was laughing the hole way through