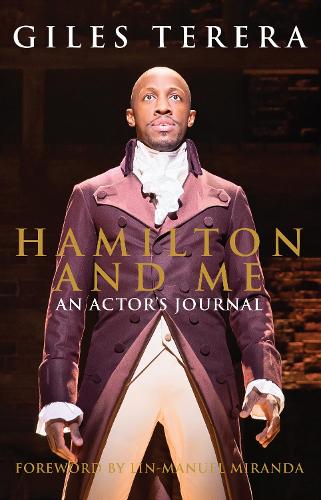 Hamilton and Me: An Actor's Journal
Giles Terera

(author)
,
Lin-Manuel Miranda

(foreword)
Hardback 
Published on: 01/07/2021
Synopsis
'Stand. Breathe. Look. Try to empty my mind. Somehow, for some reason, I have been brought to this place to tell this story, now. So tell it. That's all.' When Lin-Manuel Miranda's groundbreaking musical Hamilton opened in London's West End in December 2017, it was as huge a hit as it had been in its original production off- and on Broadway. Lauded by critics and audiences alike, the show would go on to win a record-equalling seven Olivier Awards – including Best Actor in a Musical for Giles Terera, for his portrayal of Aaron Burr. For Terera, though, his journey as Burr had begun more than a year earlier, with his first audition in New York, and continuing through extensive research and preparation, intense rehearsals, previews and finally opening night itself. Throughout this time he kept a journal, recording his experiences of the production and his process of creating his award-winning performance. This book, Hamilton and Me, is that journal. It offers an honest, intimate and thrilling look at everything involved in opening a once-in-a-generation production – the triumphs, breakthroughs and doubts, the camaraderie of the rehearsal room and the moments of quiet backstage contemplation – as well as a fascinating, in-depth exploration of now-iconic songs and moments from the musical, as seen from the inside. It is also deeply personal, as Terera reflects on experiences from his own life that he drew on to help shape his acclaimed portrayal. Illustrated with dozens of colour photographs, many of which are shared here for the first time, and featuring an exclusive Foreword by Lin-Manuel Miranda, this book is an essential read for all fans of Hamilton – offering fresh, first-hand insights into the music and characters they love and know so well – as well as for aspiring and current performers, students, and anyone who wants to discover what it really felt like to be in the room where it happened. .
Publisher:

Nick Hern Books

ISBN:

9781848429994

Number of pages:

224

Weight: 425g
Dimensions:

216 x 138 mm

Absolutely stunning and incredibly insightful!
A beautiful book, not just for actors, but for everyone to get an insight into the mind of one of the best performers there is working in one of the greate...
READ MORE


Amazing!
It was more than I anticipated, and I read it in a week - once you get started, there's never a point where you want to set the book down! It for sure give...
READ MORE