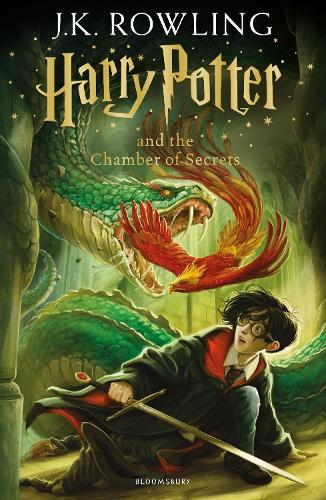 Harry Potter and the Chamber of Secrets
Paperback 
Published on: 01/09/2014
Synopsis
THE CHAMBER OF SECRETS HAS BEEN OPENED, ENEMIES OF THE HEIR, BEWARE! Harry Potter can't wait for his summer to end, he's had the worst birthday - no cards, no presents and to top it all, spending the evening pretending not to exist. Not to mention some worrying warnings from a bat-eared house elf called Dobby and a rather unfortunate incident with an enchanted, flying, Ford Anglia. Surely his second year at Hogwarts School of Witchcraft and Wizardry will be simple after all that? But all is not as it should be at Hogwarts. Harry is hearing things, strange things, venomous whispers in the shadows – and then the attacks start. What is the mysterious legend of the Chamber of Secrets? Who is heir to Slytherin? And will Harry and his friends be able to survive long enough to uncover the truth? Waterstones invites you to join Harry, Ron, Hermione as they face Bludgers, daring duels, Polyjuice Potions and more, in this gripping second instalment of the award-winning series about the boy-wizard with the lightening scar. There are secrets slithering in the dark, are you brave enough to look them in the eye? Harry Potter has been at the heart of Waterstones since the first copies of Harry Potter and the Philosopher's Stone came into our hands. We're delighted to share these new editions of the series, now entirely reimagined by one of our favourite writers and illustrators, Jonny Duddle. You can find out more about Jonny Duddle at www.jonny-duddle.com. "A phenomenon… Grown men in suits have been spotted with them on trains. Parents squabble over who gets to read them to the kids, and teachers say a chapter can silence the most rowdy of classes." The Guardian
Publisher:

Bloomsbury Publishing PLC

ISBN:

9781408855669

Number of pages:

384

Weight: 314g
Dimensions:

198 x 129 mm

ALL HOUSES MATTER
Thrilling and exciting with characters that you love more and more. The final Weasley is finally at Hogwarts and currently is she is my favourite character...
READ MORE


A truly brilliant series
There's not much to be said about this series really. At least not much that hasn't already been said. So all I'll say is that the second book in the serie...
READ MORE


Brilliant
The Chamber Of Secrets is a fabulous book. Perhaps not quite as good as the others (in my opinion) but still a must read none the less.


Amazing sequel
It's completely impossible to stop reading. If I was already surprised and into the first book the second is even better! Thanks JK Rowling!


Another Year At Hogwarts - But This Time The Danger Looks Doubled
The Chamber Of Secrets has been opened. Enemies of the heir, beware. Like the first book in the series Harry Potter And The Chamber Of Secrets is a deli...
READ MORE