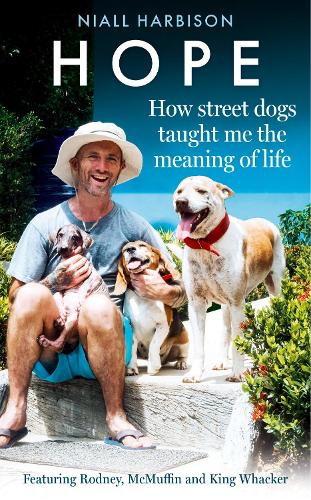 Hope - How Street Dogs Taught Me the Meaning of Life
Hardback 
Published on: 31/08/2023
Synopsis
Most people think I save dogs, but really they saved me. Niall Harbison is a dog hero based in Thailand. He spends his days feeding, caring for and rescuing the many street dogs he comes across. With every rescue there's a story. Like the sweet gentle McMuffin who was found with many tumours and hours from death, only to be nursed back to health. She now lives with Niall and is a popular member of the pack. Then there is King Whacker - who escaped a vicious attack and is now ruling the nest living up to his name as the king of the all good dogs. And who could resist the puppy eyes of little Rodney, the beautiful dog with big paws who is melting millions of hearts around the world. Originally from Dublin, Niall was the owner of a successful advertising company. After selling it, he moved to Thailand where his addictions - drugs and alcohol - almost got the better of him. One day he woke up in hospital, close to death, and realised that something had to change. And that was what spurred him on to start saving and helping street dogs. His aim is to help 10,000 street dogs. This is his story.
Publisher:

HarperCollins Publishers

ISBN:

9780008627201

Number of pages:

320

Weight: 400g
Dimensions:

222 x 141 x 28 mm

A reminder to be kind
Like so many others, watching Niall's stories and posts on social media has become part of my daily life. Seeing Niall and the other volunteers shine their...
READ MORE


A book about dogs and courage
I have been following Niall amost from the beginning of his mission. I really enjoyed his story told in his own words. Some parts of the book are sad, but ...
READ MORE