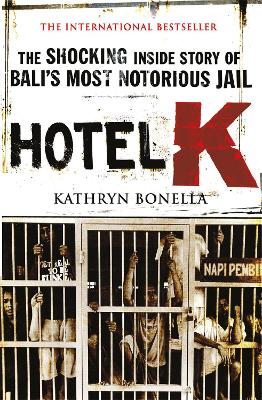 Hotel K: The Shocking Inside Story of Bali's Most Notorious Jail
Paperback 
Published on: 02/02/2012
Synopsis
THE INTERNATIONAL BESTSELLER Hotel K - Bali's most notorious jail - is Hell in Paradise. Welcome to Hotel Kerobokan, or Hotel K, Bali's most notorious jail. Its walls touch paradise; sparkling oceans, surf beaches and palm trees on one side, while on the other it's a dark, bizarre and truly frightening underworld of sex, drugs, violence and squalor. Hotel K's filthy and disease ridden cells have been home to the infamous and the tragic: a Balinese King, Gordon Ramsay's brother, Muslim terror bombers, beautiful women tourists and surfers from across the globe. Petty thieves share cells with killers, rapists, and gangsters. Hardened drug traffickers sleep alongside unlucky tourists, who've seen their holiday turn from paradise to hell over one ecstasy pill. Hotel K is the shocking inside story of the jail and its inmates, revealing the wild 'sex nights' organised by corrupt guards for the prisoners who have cash to pay, the jail's ecstasy factory, the killings made to look like suicides, the days out at the beach, the escapes and the corruption that means anything is for sale - including a fully catered Italian jail wedding, or a luxury cell upgrade with a Bose sound system. The truth about the dark heart of Bali explodes off the page.
Publisher:

Quercus Publishing

ISBN:

9780857382696

Number of pages:

320

Weight: 230g
Dimensions:

196 x 128 x 24 mm

outstanding
an outstanding book. intriguing down to the last page ,an excellent portrayal of true accounts of inmates and horrific conditions... a must buy that you ca...
READ MORE




Hileriously shocking
This book really opens up the shocking truths of an Indonesian prison! The interview style of the book and explanations behind the goings on of Hotel K rea...
READ MORE


Highly recommend
Highly recommend. Really well researched and interesting. Just like Snowing in Bali.


An extended newspaper article?
This book reads like a three page spread in a Sunday paper.... but it goes on for a lot longer. I found it quite boring. After the initial fifty pages, it ...
READ MORE