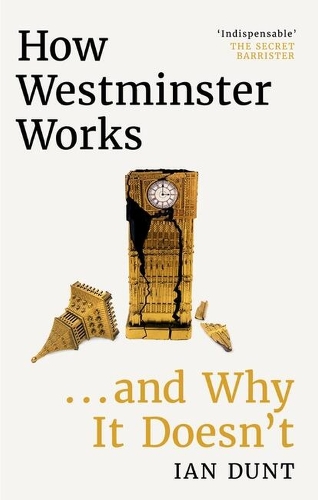 How Westminster Works... and Why It Doesn't
Hardback 
Published on: 13/04/2023
Synopsis
British politics is broken. Anyone sitting down to watch the news will get a firm sense that something has gone terribly wrong. Prime ministers are misleading and inadequate. Cabinet secretaries are uninformed and deluded. Many MPs are of the lowest imaginable quality. The legislation is sloppy, ineffective and broadly worded. Expertise is denigrated. Lies are rewarded. And deep-seated, long-lasting national problems go permanently unresolved. Most of us have a sense that the system doesn't work - but do we know how to articulate exactly why? The reality is that despite all the coverage, hardly anyone understands how Westminster actually works. Our political and financial system is cloaked in secrecy, archaic terminology, ancient custom, impenetrable technical jargon and deliberate obfuscation. How Westminster works...and why it doesn't is an impeccably researched and highly informative account of the reality behind the news stories we read every day. It provides exactly what people in power have always tried to avoid: a description of the mechanisms of government which can be understood by anyone.
Publisher:

Orion Publishing Co

ISBN:

9781399602730

Number of pages:

448

Weight: 561g
Dimensions:

220 x 146 x 44 mm

Easy to understand, detailed and engrossing
I really enjoyed this book. It covers all aspects of how politics at the national level works. The chapters are concise with just the right amount of det...
READ MORE


A must read
I thought I had a pretty good grasp of politics in this country when I came to this book. After all, I am a qualified lawyer, so I have studied our constit...
READ MORE


Not what I was expecting
I have a keen interest in politics and was so looking forward to reading this. There are some interesting tales in the book but I found the writing style ...
READ MORE


Beyond the Cracks: Unveiling Broken Politics and Charting a Path to Renewal
The author pens another thrilling, detailed book, following his highly esteemed 'How to Be a Liberal', containing facts, figures and interviews with the pe...
READ MORE


How Westminster works..and why is doesn't
A book to really open your eyes about the state of political system