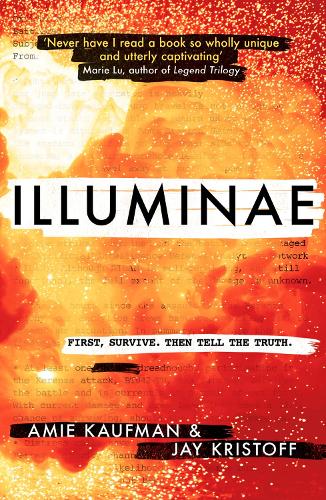 Illuminae: The Illuminae Files: Book 1
Jay Kristoff

(author)
,
Amie Kaufman

(author)
Paperback 
Published on: 22/10/2015

Iluminae - Illuminating!
I can't remember the exact day that this happened but one day I logged into Twitter and all I saw was THIS BOOK. Despite my best efforts at ignoring my cur...
READ MORE


'The Hunger Games' meets 'The Maze Runner' set in cyber-space with a fantastic female lead.
Right now I'm sitting in a café, and supposed to be studying (but of course, I had! to finish this first), and now I don't know what to do. Just read it. I...
READ MORE

Synopsis
The internationally bestselling first book in a high-octane trilogy Kady thought breaking up with Ezra was the worst thing she'd ever been through. That was before her planet was invaded. Now, with enemy fire raining down on them, Kady and Ezra are forced to fight their way onto one of the evacuating craft, with an enemy warship in hot pursuit. But the warship could be the least of their problems. A deadly plague has broken out and is mutating, with terrifying results; the fleet's AI, which should be protecting them, may actually be their biggest threat; and nobody in charge will say what's really going on. As Kady plunges into a web of data hacking to get to the truth, it's clear only one person can help her bring it all to light: Ezra. Told through a fascinating dossier of hacked documents, Illuminae is the first book in a heart-stopping, high-octane trilogy. Can't get enough Jay Kristoff & Amie Kaufman? Try the epic Aurora Cycle series!
Publisher:

Oneworld Publications

ISBN:

9781780748375

Dimensions:

198 x 129 x 37 mm

ILLUMINAE
When the planet of Kerenza is invaded, survivors flee aboard separate spaceships. Their attackers chase them through space, but is the enemy warship, the d...
READ MORE


Different Format
Not your usual book format. Think more intelligence dossier. Works quite well, few nice twists in the plot. Love story part a bit clunky, the profanity cen...
READ MORE


AMAZING!
Oh my days. Probably one of the best best books I have read so far. All the characters and the situations were amazing and made the book intense that you r...
READ MORE


A must read for Sci-Fi
I will not lie, this was a book I bought in April 2020, purely because of the hype. I'd never really been interested in Sci-Fi, but I'd also told myself I ...
READ MORE


problematic author
don't support them