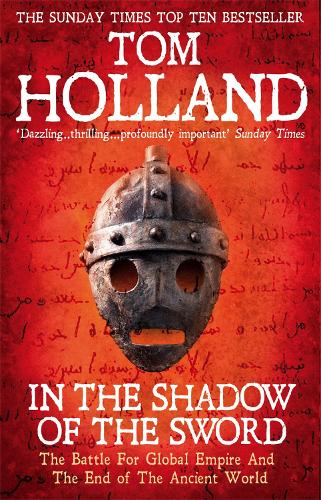 In The Shadow Of The Sword: The Battle for Global Empire and the End of the Ancient World
Paperback 
Published on: 04/04/2013
Synopsis
A SUNDAY TIMES TOP TEN BESTSELLER 'A stunning blockbuster' Robert Fisk 'A brilliant tour de force of revisionist scholarship and thrilling storytelling' Simon Sebag Montefiore 'A compelling detective story of the highest order' Sunday Times 'Tom Holland has an enviable gift for summoning up the colour, the individuals and animation of the past' Independent In the 6th century AD, the Near East was divided between two venerable empires: the Persian and the Roman. A hundred years on and one had vanished forever, while the other seemed almost finished. Ruling in their place were the Arabs: an upheaval so profound that it spelt, in effect, the end of the ancient world. In the Shadow of the Sword explores how this came about. Spanning from Constantinople to the Arabian desert, and starring some of the most remarkable rulers who ever lived, he tells a story vivid with drama, horror, and startling achievement.
Publisher:

Little, Brown Book Group

ISBN:

9780349122359

Number of pages:

592

Weight: 492g
Dimensions:

195 x 128 x 39 mm

A book for people who like wearing tin foil hats.
Tom Holland has released a book with such historical inaccuracy that each of his arguments have the ability to be refuted, and have been refuted, by people...
READ MORE


Another good read from Tom Holland.
Written in Holland's usual racy style, he brings the development of the three main monotheistic religions of the Middle East to life in a way that only he ...
READ MORE