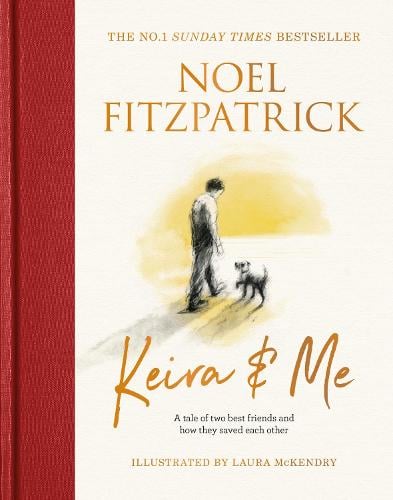 Keira & Me
Professor Noel Fitzpatrick

(author)
,
Laura McKendry

(illustrator)
Hardback 
Published on: 26/10/2023
Synopsis
Let national treasure Professor Noel Fitzpatrick - the Supervet - break your heart and put it back together again in this beautiful new Christmas story. 'With you by my side, just doing my best was the best thing to do.' Keira is a very special dog. She held the key to Noel's heart from the moment he first met her. That's because Keira doesn't judge. She can see beyond the superficial things that often divide us. When Noel struggles, Keira is there to remind him he need only do his best, with integrity and kindness, and a will to do the right thing. When he sees only darkness, Keira is ready to lend a paw and lift him back into the light. Based on the real Keira and Noel and their life together, Keira & Me captures the true, powerful bond between human and animal. Inspiring, healing and a heartfelt celebration of love, this beautifully illustrated fable teaches us all how to embrace the ups with the downs, the joy and the sorrow, that make up a life. For animal lovers everywhere, or anyone who needs a little comfort this Christmas, Keira & Me promises to break your heart - and put it back together again.
Publisher:

Orion Publishing Co

ISBN:

9781399610308

Number of pages:

128

Weight: 440g
Dimensions:

218 x 172 x 20 mm

Sneak preview
I was lucky enough to get sight of this book yesterday at a special reading and I've ordered my own copy off the back of that. There wasn't a dry eye in th...
READ MORE


Awesome book of the year
When Got this book I could not put it down beauiful.illusated. and such I look into a true gentleman life with his awesome dog and his best friend over hi...
READ MORE