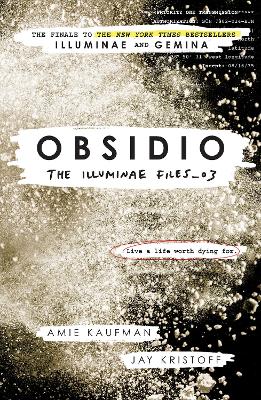 Obsidio: The Illuminae files: Book 3
Amie Kaufman

(author)
,
Jay Kristoff

(author)
Paperback 
Published on: 13/03/2018
Synopsis
Asha Grant came to Kerenza to escape her past. Too bad he just caught up with her. Asha survived BeiTech's initial assault and has been working undercover with the hopelessly outmatched resistance ever since. The last thing she expected to worry about was her ex-boyfriend, Rhys Lindstrom who just landed planetside. Is he her way out - or guarantee she never gets off this frozen rock alive? But Asha's not the only one with problems. Her cousin Kady's ragtag band of survivors are headed for Kerenza - without enough oxygen to last the journey. Oh, and there might be an insurrection brewing. With BeiTech hurrying to repair their damaged jump gate, and a mass extermination planned for the Kerenza civilians, only a miracle could save them now. And everyone knows that miracles are just statistical probabilities...right? BRIEFING NOTE: From bestselling author duo Amie Kaufman and Jay Kristoff - and select journal entries from Marie Lu - comes the heart-stopping, heartbreaking finale in the trilogy that broke the mould and has been called "stylistically mesmerizing" and "out-of-this-world awesome."
Publisher:

Oneworld Publications

ISBN:

9781780749839

Number of pages:

624

Dimensions:

198 x 129 x 38 mm

Space Battles + Brilliant Characters + AIDAN = Best Finale Ever
It is VERY hard to describe what I feel for this book, these authors and the Illuminae series because I AM A BROKEN SHELL that sympathises with a mass murd...
READ MORE


Great Ending to the series
Review I've got to be honest this book was quite good I really enjoyed the side of BiTech that I've been curious about and this book was filled with a lot...
READ MORE


Good End to an Amazing Series
I felt like I needed some time to process this book and my emotions surrounding it (not all good i'm afraid *gasp*). Whilst I gave it four stars, if it w...
READ MORE


Best overall series I've ever read.


A satisfying end to the series
To be honest, Obsidio isn't my favourite of the Illuminae Files series, in large because I never really felt as close to our two new protagonists as I do t...
READ MORE