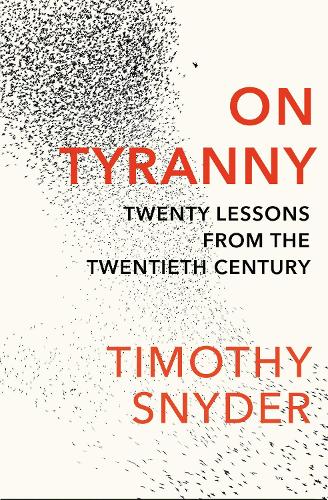 On Tyranny: Twenty Lessons from the Twentieth Century
Paperback 
Published on: 02/03/2017

Everyone should read this
This should be required reading for anyone who believes in democracy. But particularly as inspiration for young voters and as an antidote to voter apathy. ...
READ MORE


Accessible, fascinating and inspiring
Fascinating, prescient and frankly terrifying, Timothy Snyder draws parallels between the totalitarianism of the twentieth century and our present day. Sn...
READ MORE

Synopsis
History does not repeat, but it does instruct. In the twentieth century, European democracies collapsed into fascism, Nazism and communism. These were movements in which a leader or a party claimed to give voice to the people, promised to protect them from global existential threats, and rejected reason in favour of myth. European history shows us that societies can break, democracies can fall, ethics can collapse, and ordinary people can find themselves in unimaginable circumstances. History can familiarise, and it can warn. Today, we are no wiser than the Europeans who saw democracy yield to totalitarianism in the twentieth century. But when the political order seems imperilled, our advantage is that we can learn from their experience to resist the advance of tyranny. Now is a good time to do so.
Publisher:

Vintage Publishing

ISBN:

9781847924889

Number of pages:

128

Weight: 118g
Dimensions:

198 x 129 x 9 mm

Worth everybody's time
I read this in one sitting. Its concise and intelligent.


Timely read on how we should not repeat ourselves
Ever since reading Bloodlands by Timothy Snyder for a course at university a couple of years ago, I have known that he is one of those authors who can real...
READ MORE