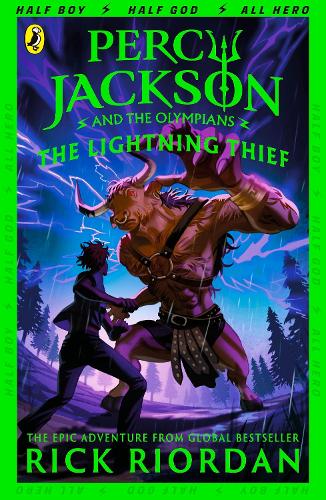 Percy Jackson and the Lightning Thief (Book 1)
Paperback 
Published on: 04/07/2013
Synopsis
The first book in the bestselling Percy Jackson and the Olympians series. Now with a new cover look, read the story that launched Percy Jackson into the stratosphere, before the Disney+ series comes out! HALF BOY - HALF GOD - ALL HERO. Look, I never asked to be the son of a Greek god. I was just a normal kid. . . until I accidentally vaporized my maths teacher. Percy Jackson is having a bad week. His life has gone from totally normal to monsters-from-Greek-mythology-randomly-appearing kind of strange. Worse still, the king of the gods thinks Percy has stolen his all-powerful lightning bolt - and it seems making Zeus angry is a very bad idea. Now Percy and his friends have just ten days to catch the true lightning thief and stop all-out war from erupting on Mount Olympus. . . What could possible go wrong?
Publisher:

Penguin Random House Children's UK

ISBN:

9780141346809

Number of pages:

400

Weight: 277g
Dimensions:

198 x 129 x 24 mm

Entertaining
I bought this book after watching the film. The film left me slightly disappointed, and I much preferred the book. It's an interesting plot and I found it ...
READ MORE


Percy Jackson.
This book, along with the second book in the series, was bought as a gift for my granddaughter's up-coming birthday. I am therefore unable to make any sort...
READ MORE


Percy Jackson and the Lightning Thief
This book is amazing and all the characters are really easy to like, you just want to become part of Camp Half blood and join them in their quests. If you ...
READ MORE


Love the whole series
Great story line which evokes empathy for many characters throughout the plot. A great read in my opinion, never read any book so fast before!


Excellant
This book was fun to read. Each sort of ends in a cliffhanger. I REALLY prefer the book then the movie and you notice a lot of changes. The reason why I di...
READ MORE


Fantastic young adult novel
Content Warnings: ableism, use of ableist language, manipulation, animal abuse Percy Jackson was a thoroughly enjoyable read! I love mythology so this was...
READ MORE


Action packed and utterly brilliant!
have attempted this series before in the past and never really got on with it. It's something that's always pained me a little as I've seen how many reade...
READ MORE


Amazing
This is one of the best books I've ever read. I really enjoyed it because the characters are exciting with interesting backgrounds and the storyline is thr...
READ MORE


AMAZING
amazing for causal readers to become more challanging


off we go to camp half-blood
Definitely worthy of more acclaim. Maybe it's because I am a fan of Greek mythology but even if you take this concept aside, this is still a really great r...
READ MORE


Well loved series
We have loved all this series


BEST OF ALL PERCY JACKSON BOOKS
First book kept me hooked throughout the book, kept me reading for the next book too. Lovely.


Amazing
Such a great first book! Can't wait to read the rest of the series and go on adventures with Percy, Annabeth and Groover! Amazing read even for adults!!


I really enjoyed this demigod coming of age book
I'd never read these before now as I bagged the box set for cheap from The Works. I've seen the movie multiple times and really enjoyed that. The differen...
READ MORE


All-time favourite
I've just finished reading Lightning Thief and am now determined to finish the whole collection. I love the Rick Riordan's writing style as a whole and am ...
READ MORE


Sorry Percy
Fun for kids but as an adult you become alarmingly more aware of how annoying Percy really is...


I can't wait to read the whole series!
Several of my friends have read Percy Jackson before me and they told me how brilliant it was, so I decided to purchase the first book and WOW! I was not p...
READ MORE