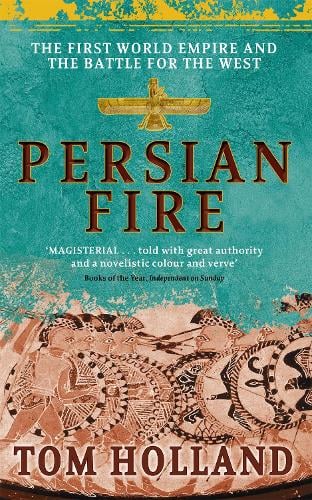 Persian Fire: The First World Empire, Battle for the West - 'Magisterial' Books of the Year, Independent
Paperback 
Published on: 03/08/2006
Synopsis
Tom Holland's bestselling account of the world's very first clash of civilisations between the Persians and the Greeks in 480BC 'Magisterial... told with great authority and a novelistic colour and verve' Books of the Year, Independent 'Holland has a rare eye for detail, drama and the telling anecdote' Dominic Sandbrook, Daily Telegraph 'An unequivocal argument for the relevance of ancient history' Observer 'Holland brings this tumultuous, epoch-making period dazzlingly to life' William Napier, Independent on Sunday In the fifth century BC, a global superpower was determined to bring truth and order to what it regarded as two terrorist states. The superpower was Persia, incomparably rich in ambition, gold and men. The terrorist states were Athens and Sparta, eccentric cities in a poor and mountainous backwater: Greece. The story of how their citizens took on the most powerful man on the planet is as heart-stopping as any episode in history.
Publisher:

Little, Brown Book Group

ISBN:

9780349117171

Number of pages:

448

Weight: 375g
Dimensions:

196 x 126 x 36 mm

Persian Fire
Tom Holland, whom in my views can only be described as a mediocre historian, has used facts in well known and researched history to divide people and races...
READ MORE


Worth a read
I think this is worth a read and I am glad I am glad I ignored the previous negative review,,,


Fantastic
Tom Holland tells the story from the origins of persia, to it's conflict with the Greek world and then continues with the war between Sparta and Athens. He...
READ MORE


Enlightening and well researched
I have been a fan of Mr. Holland's writing for some time but I have always held back from reading Persian fire. Reviews have suggested that even though it ...
READ MORE