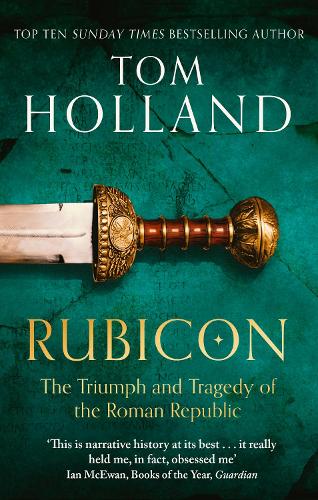 Rubicon: The Triumph and Tragedy of the Roman Republic
Paperback 
Published on: 10/06/2004
Synopsis
'The book that really held me, in fact, obsessed me, was Rubicon . . . This is narrative history at its best. Bloody and labyrinthine political intrigue and struggle, brilliant oratory, amazing feats of conquest and cruelty' Ian McEwan, Books of the Year, Guardian 'Re-evaluating Rome for a new generation' Robert Harris, Sunday Times 'Marvellously readable' Niall Ferguson The Roman Republic was the most remarkable state in history. What began as a small community of peasants camped among marshes and hills ended up ruling the known world. Rubicon paints a vivid portrait of the Republic at the climax of its greatness - the same greatness which would herald the catastrophe of its fall. It is a story of incomparable drama. This was the century of Julius Caesar, the gambler whose addiction to glory led him to the banks of the Rubicon, and beyond; of Cicero, whose defence of freedom would make him a byword for eloquence; of Spartacus, the slave who dared to challenge a superpower; of Cleopatra, the queen who did the same. Tom Holland brings to life this strange and unsettling civilization, with its extremes of ambition and self-sacrifice, bloodshed and desire. Yet alien as it was, the Republic still holds up a mirror to us. Its citizens were obsessed by celebrity chefs, all-night dancing and exotic pets; they fought elections in law courts and were addicted to spin; they toppled foreign tyrants in the name of self-defence. Two thousand years may have passed, but we remain the Romans' heirs. SHORTLISTED FOR THE 2004 SAMUEL JOHNSON PRIZE SHORTLISTED FOR THE 2003 HISTORY BOOK OF THE YEAR AT THE BRITISH BOOK AWARDS
Publisher:

Little, Brown Book Group

ISBN:

9780349115634

Number of pages:

464

Weight: 408g
Dimensions:

195 x 128 x 31 mm

A brilliant book on the fall of the Roman Republic
I keep it short and sweet. This is a brilliant book for a brilliant part of history. This is written how a history book should be written, making it in int...
READ MORE


A Top Notch Narrative History.
I bought this as I wanted some background reading for a modelling project I was doing on the major battles of the Republic. Like Richard Holmes' Marlboroug...
READ MORE


Very much recommended
This is my first Tom Holland book, inspired by my visit to Rome in October-November 2011. I was looking for an accessible book on Roman history in general,...
READ MORE


Rubicon
An excellent read. An enjoyable & informative way to learn 400 years of Roman history fast.


Lucid and entertaining
I'm still reading it. It is both lucid and entertaining. I am planning to read Dynasty next.