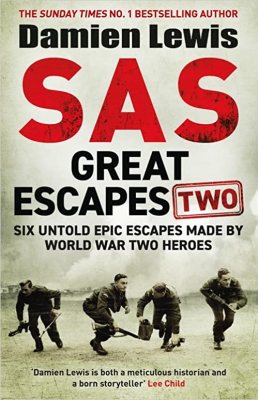 SAS Great Escapes Two: Six Untold Epic Escapes Made by World War Two Heroes
Hardback 
Published on: 25/05/2023
Synopsis
SAS Great Escapes Two recounts the hitherto untold stories of six of the most dramatic and daring escapes executed by the world's most famous fighting force during WWII. From the very earliest SAS missions to the push into Nazi-occupied Europe, they cover some of the key figures in the Regiment, including its founder, David Stirling, plus other lesser-known heroes. With each story comes an edge-of-the-seat, rollercoaster ride in classic Damien Lewis fashion, as readers are plunged into the escapees' experiences - sharing their most terrifying yet inspiring moments. These stunning accounts of survival beggar belief, revealing nerve-racking bluff and deception, knife-edge encounters with enemy hunter forces hellbent on wreaking vengeance and murder, but also incredible acts of mercy and kindness from those who risk all to help the escapees on their way. Each tale of breath-taking derring-do reveals how necessity really is the mother of all invention, as with every step and at every juncture these fugitives defied fate, snatching survival and freedom from the jaws of the enemy, and all the horrors that would have followed capture. Damien Lewis has worked closely with the families of those portrayed, accessing wartime diaries, letters, mission reports, interrogation transcripts and more, to relate how the men of the SAS crossed blazing deserts, evaded enemy hunter forces and escaped through hostile lands, battling against seemingly insurmountable odds. But most of all, these uplifting tales of endurance beyond measure showcase the triumph of the human spirit and the will to survive.
Publisher:

Quercus Publishing

ISBN:

9781529429381

Number of pages:

352

Weight: 591g
Dimensions:

238 x 160 x 36 mm

leaves you in awe
This is in someways a difficult book to try and review, it features 6 stories which I am sure the majority will have never heard of before. However, by the...
READ MORE


Born To Fight
Well, no one's really born to fight, but when your world is in great peril as was theirs' at a time of great evil and uncertainty, then that's when you'll ...
READ MORE