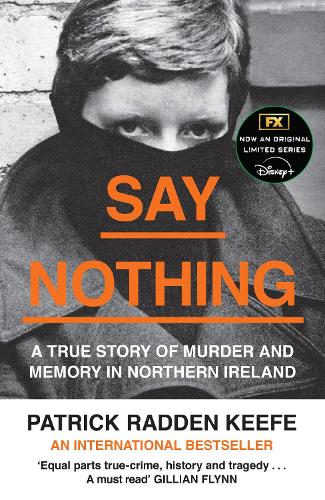 Say Nothing: A True Story of Murder and Memory in Northern Ireland
Patrick Radden Keefe

(author)
Paperback 
Published on: 22/08/2019
Synopsis
Our Irish Book of the Month for October 2019 Winner of the Orwell Prize for Political Writing 2019 One night in December 1972, Jean McConville, a mother of ten, was abducted from her home in Belfast and never seen alive again. Her disappearance would haunt her orphaned children, the perpetrators of this terrible crime and a whole society in Northern Ireland for decades. In this powerful, scrupulously reported book, Patrick Radden Keefe offers not just a forensic account of a brutal crime but a vivid portrait of the world in which it happened. The tragedy of an entire country is captured in the spellbinding narrative of a handful of characters, presented in lyrical and unforgettable detail. A poem by Seamus Heaney inspires the title: `Whatever You Say, Say Nothing'. By defying the culture of silence, Keefe illuminates how a close-knit society fractured; how people chose sides in a conflict and turned to violence; and how, when the shooting stopped, some ex-combatants came to look back in horror at the atrocities they had committed, while others continue to advocate violence even today. Say Nothing deftly weaves the stories of Jean McConville and her family with those of Dolours Price, the first woman to join the IRA as a front-line soldier, who bombed the Old Bailey when barely out of her teens; Gerry Adams, who helped bring an end to the fighting, but denied his own IRA past; Brendan Hughes, a fearsome IRA commander who turned on Adams after the peace process and broke the IRA's code of silence; and other indelible figures. By capturing the intrigue, the drama and the profound human cost of the Troubles, the book presents a searing chronicle of the lengths that people are willing to go to in pursuit of a political ideal, and the ways in which societies mend - or don't - in the aftermath of a long and bloody conflict.
Publisher:

HarperCollins Publishers

ISBN:

9780008159269

Number of pages:

528

Weight: 460g
Dimensions:

198 x 129 x 40 mm

A Beautiful, Clear Voice
Keefe's training as a journalist is what I think makes this book shine; out of all the books I've ever read (and tried to read) about the Troubles, this on...
READ MORE


Brilliant
I don't normally read non-fiction, but I absolutely loved this book. By featuring the same few people throughout, it's easy to follow and become immersed i...
READ MORE


You must read this
Couldn't put this book down & read in one sitting


Brilliant
A compelling read and piece of investigative journalism. The author's background as a journalist stands out in the fast pace and artful storytelling . ...
READ MORE


Book Review-Say Nothing Patrick Radden Keefe by Samuel Miller Thursday 30 June 2022
As someone who grew up in England during the 1970's and 80's,during the time of the Troubles in Northern Ireland, (my experience of it was watching televis...
READ MORE