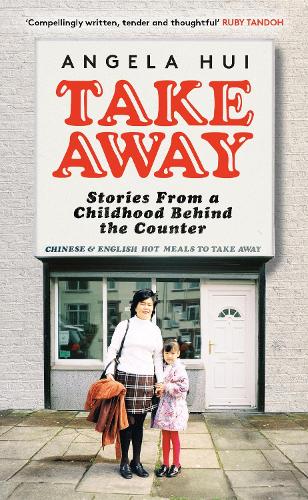 Takeaway: Stories from a childhood behind the counter
Hardback 
Published on: 21/07/2022
Synopsis
An eye-opening memoir revealing the stories behind living in and running a Chinese takeaway. Growing up in a Chinese takeaway in rural Wales, Angela Hui was exposed from a very young age the struggle of being East Asian in Britain. From attacks on the shopfront (in other words, their home), to verbal abuse from customers, and confrontations that ended with her dad wielding the meat cleaver; life growing up in a takeaway was far from peaceful. But alongside the strife, there was also beauty in the rhythm and joy that came from living in the takeaway and being surrounded by the food of her home culture. Family dinners before service, research trips to Hong Kong, preparing for the weekend rush with her brothers - there is a treasure trove of activities that happen before a customer places an order. A blending of her Welsh and Chinese heritage, the takeaway was a place that embodied the dual identities that Angela herself was experiencing. Full of entertaining and surprising stories, Takeaway is a brilliantly warm and eye-opening memoir - at times hilarious, and at others shocking - revealing what really goes on behind one of Britain's most-loved institutions.
Publisher:

Orion Publishing Co

ISBN:

9781398705548

Number of pages:

352

Weight: 460g
Dimensions:

218 x 140 x 34 mm

Love this book!
Insightful, touching, and very funny. A must-read not only for anyone wanting to explore the themes of identity and racism, and the struggles that many imm...
READ MORE


Fantastic
A beautifully written and necessary story.


Loved it!
A tender and heart-warming memoir about growing up behind the counter of a Chinese takeaway in Wales, feeling torn between two seemingly opposing worlds. I...
READ MORE


A great read!
I'm Half chinese. I grew up in take aways and restaurants. I know this narrative. There's love. There's pain. There's brutal honesty. There's a view from ...
READ MORE


A storyteller
This book has not only managed to open the eyes and ears of so many to the unsung stories of the Chinese but it has also done so in a way that resonates wi...
READ MORE


Heartwarming, heartbreaking - a must read food memoir
There are few books that explore the West Asian experience in Britain. There are even fewer that do so with such incredible nuance, humour, and character. ...
READ MORE


An ode to the Take Away kid.
I adored this this book. I've never read a book that is so accurate to my childhood. Angela's book offers a glimpse into what it's like to be a Take Away K...
READ MORE


Emotional and endearing
Angela's descriptions of growing up in a takeaway was relatable and comforting for me as somebody who also grew up working in a Chinese takeaway. It will b...
READ MORE


just brilliant
it's a pleasure to finally be able to read something that strikes a chord with my own idea of home and life. from working questionable hours, to even littl...
READ MORE


A beautiful account of a childhood between 2 cultures
I loved this story about the author's childhood, growing up between 2 different cultures. I was moved by the description of her relationship with her pare...
READ MORE


A book that has the power to connect millions & spark meaningful conversations
This is a book that you wouldn't think to pick up and read but you need to! It is personal, honest, and raw, I really didn't expect myself to get teary but...
READ MORE


I will be asking…no…demanding everyone I know to read this!
This book is written with such heart, humour and empathy from all angles and more honesty than I could muster. Anyone who has ordered a Chinese takeaway -...
READ MORE


Chippy Kids Unite!!
Beautifully written and deeply personal. It resonates so much with a whole generation of adults and for me personally. It was a joy to read in two sitti...
READ MORE


Insightful auto biography
Really enjoyed this book . Maybe the recipes were unnecessary, but it was generally an insightful look at life behind the counter of a Chinese takeaway . ...
READ MORE