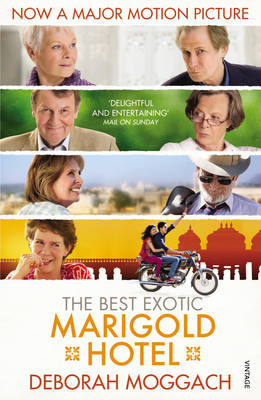 The Best Exotic Marigold Hotel
Paperback 
Published on: 16/02/2012
Synopsis
The book that inspired the box office hit The Best Exotic Marigold Hotel and this year's The Second Best Exotic Marigold Hotel starring Judi Dench, Maggie Smith, Bill Nighy, Celia Imrie, Dev Patel and Penelope Wilton Enticed by advertisements for a luxury retirement home in India, a group of strangers leave England to begin a new life. On arrival, however, they discover the palace is a shell of its former self, the staff are more than a little eccentric and the days of the Raj appear to be long gone. But, as they soon discover, life and love can begin again, even in the most unexpected circumstances. Previously published with the title These Foolish Things
Publisher:

Vintage Publishing

ISBN:

9780099572022

Number of pages:

304

Weight: 219g
Dimensions:

198 x 129 x 19 mm

Sad and rather seedy
I have not seen the film but had heard rave reviews of it so wanted to read the book first. Unfortunately I found the book hard going - not difficult to re...
READ MORE


A light hearted read.
I've yet to see the film but if it's anything close to the book then it'll be great. Moggach clearly has a good sense of humour, she puts a fun spin on gro...
READ MORE


Good solid read.
Having seen the film I was pleased to discover that the book was equally as good and had a much more in depth look at the subject. Really enjoyed it.


Cautionary Note
Deborah Moggach has written several books, including both Best Exotic Marigold Hotel (as in the film) and These Foolish Things. If you look on ths website ...
READ MORE


Funny
I laughed a lot with this novel. This is the first time I discovered Deborah Moggach and I really appreciate. The chapters are short and this book reads ve...
READ MORE