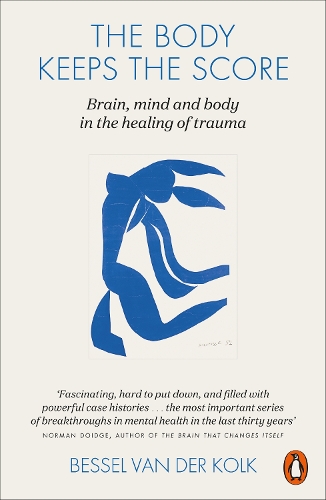 The Body Keeps the Score: Brain, Mind, and Body in the Healing of Trauma
Bessel van der Kolk

(author)
Paperback 
Published on: 24/09/2015
Synopsis
'An astonishing and important book. The trauma Bible. I cannot recommend it enough for anyone struggling with...well...anything' - Tara Westover The effects of trauma can be devastating for sufferers, their families and future generations. Here one of the world's experts on traumatic stress offers a bold new paradigm for treatment, moving away from standard talking and drug therapies and towards an alternative approach that heals mind, brain and body.
Publisher:

Penguin Books Ltd

ISBN:

9780141978611

Number of pages:

560

Weight: 385g
Dimensions:

198 x 129 x 24 mm

Essential reading for every child abuse survivor
I've read a lot of self-help books over the years for depression, anxiety and coping with stress and none of it fully helped because I didn't realise those...
READ MORE


Post Traumatic Stress Disorder
This book explains how the brain reacts to PTSD and how it can be treated. It is based on scientific reseach rather than on vague theories which was its ap...
READ MORE


Very interesting and noble work
This is one of my most memorable reads so far, sheds light on how trauma effects individuals and society at large. Van der Volk uses anecdotes from his cli...
READ MORE


Awakening
I'm half way through but already have far better understanding of the pain my body holds from the memories that it holds. It has awakened me to the realisa...
READ MORE


Highly recommend
Brilliant.


Wonderful and insightful.
By this point I have re-read and annotated this book within an inch of its life. Usually I struggle to read nonfiction books but I struggled to put this on...
READ MORE


I'll forever re-read this
This book not only validated my trauma, but lead me to better understand my brain and body. I cried, laughed and loved this book like no other. C-PTSD & BP...
READ MORE