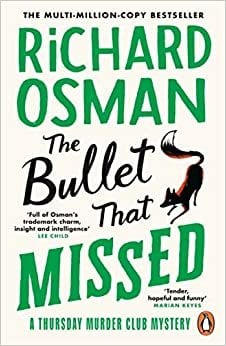 The Bullet That Missed: (The Thursday Murder Club 3)
Paperback 
Published on: 11/05/2023
Richard Osman had done it again!!
I am lucky enough to have received a reading copy of this book from the publishers because I could not wait to read it. And I'm back with the gang and a d...
READ MORE

An excellent addition to the series
The Thursday Murder Club is back and better than ever. I really thought I might have figured it out at one point but alas Richard Osman continues to prove ...
READ MORE

Synopsis
It is an ordinary Thursday, and things should finally be returning to normal. Except trouble is never far away where the Thursday Murder Club are concerned. A local news legend is on the hunt for a sensational headline, and soon the gang are hot on the trail of two murders, ten years apart. To make matters worse, a new nemesis pays Elizabeth a visit, presenting her with a deadly mission: kill or be killed… While Elizabeth grapples with her conscience (and a gun), the gang and their unlikely new friends (including TV stars, money launderers and ex-KGB colonels) unravel a new mystery. But can they catch the culprit and save Elizabeth before the murderer strikes again?
Publisher:

Penguin Books Ltd

ISBN:

9780241992388

Number of pages:

432

Weight: 300g
Dimensions:

194 x 126 x 30 mm
Characters that are like old friends.
I slipped into the book like I would into a cosy pair of slippers. As usual it featured the well rounded characters we have come to know and love. However ...
READ MORE

Richard Osman's books just keep getting better...
So, three books in, and if anyone ever suggested back in 2020 that I'd be eagerly awaiting another outing of bunch of crime fighting pensioners, I'd of pro...
READ MORE

Just gets better and better!
I think this is his best yet - absolutely loved it - can't wait for the next one.

Rapidly Becoming a Favourite Author
This third book from Richard Osman seals his status as a favourite author following the first two titles. It's easy to feel an affinity with all of the mai...
READ MORE

Hurrah ! For friends, love and murder
Lemon drizzle cake and instagram aged 80. Friends you love and got your back. Cracking read . I hope The Thursday murder Club continues forever .

Everone was there but something was missing
Ahead of the release of a new book in the Thursday Murder Club series, I thought I'd better catch up on book three. I wasn't entirely sure after the first ...
READ MORE