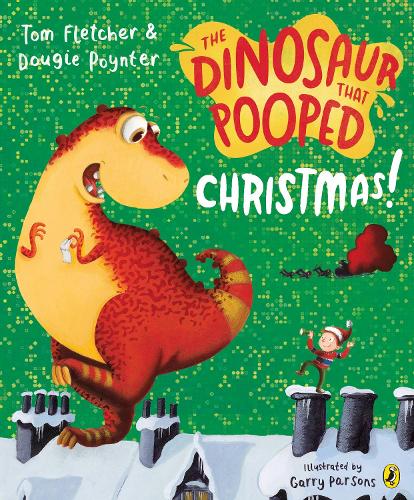 The Dinosaur that Pooped Christmas!
Tom Fletcher

(author)
,
Garry Parsons

(illustrator)
,
Dougie Poynter

(author)
Paperback 
Published on: 25/10/2012

An hilarious Christmas tale
I love this book! Written by McFly band mates Dougie Poynter and Tom Fletcher this is a seasonal picture book that I'm sure will become a Christmas classic...
READ MORE


Gross! Disgusting! So funny!
This book is gross, disgusting, horrid and so funny - why would you not buy it?!! The McFly boys (well half of them!) have obviously got a sense of humour ...
READ MORE

Synopsis
A madcap romp of a story, reminiscent of Dr Seuss, written by two members of the pop-band McFly, that features – you guessed it – a dinosaur and lots of poo. Danny is a very greedy boy. Every year, he asks Father Christmas for too many presents. So this year, Father Christmas decides to teach him a lesson; he gives Danny a dinosaur. The result is very large, very smelly and very, very funny. "Expect this naughty rhyming story to be a seasonal favourite." – The Bookseller. Dougie Poynter and Tom Fletcher had written songs together for nine years, as members of McFly, before they decided to begin their The Dinosaur that Pooped series of children's books, which have been a roaring (ahem) success. Illustrator Gary Parsons studied Fine Art at Brighton College before going on to study illustration. He has since worked on Billy's Bucket, which won the 2004 Children's Book Award, Krong!, which won the Perth and Kinross Picture Book award 2006, and he has recently worked with Lucy and Stephen Hawking.
Publisher:

Penguin Random House Children's UK

ISBN:

9781849417792

Number of pages:

32

Weight: 220g
Dimensions:

289 x 239 x 4 mm

funny, fantastic
I as a mcfly fan got this myself but i also have 2 two year old nephews so i also got this to read to them. they love this book and every time they see me ...
READ MORE


Fabulous Book!
My 2 year old daughter loves this book. Incredibly funny and was enjoyed with her grandparents, daddy and I over the festive period. Even though it is Chri...
READ MORE


great title,
Bought this for my 4 year old grandson and my 2 year old nephew and they loved it! This book has been read 2-3 times a day since Christmas. Great illustrat...
READ MORE


A must purchase is you love kids books.
This book is stunning both in picture content and story!! Every child will love the book, and fall about laughing when they realise at the end what the din...
READ MORE


love it
my children loved this booked and found it very funny. great story to share


Hilarious
Bought this because of reviews. G'son aged 4yrs liked it so much hetook it to Nursery School 'show and tell'. Asked to take back as teachers loved it.