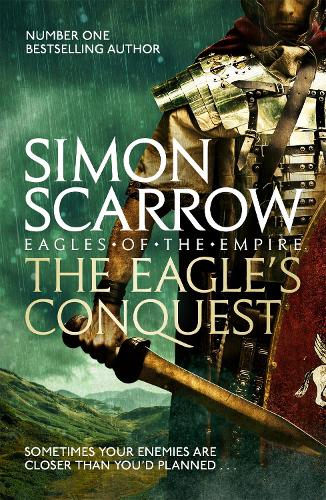 The Eagle's Conquest (Eagles of the Empire 2)
Paperback 
Published on: 02/10/2008
Synopsis
IF YOU DON'T KNOW SIMON SCARROW, YOU DON'T KNOW ROME! THE EAGLE'S CONQUEST is the thrilling second novel in Simon Scarrow's bestselling Eagles of the Empire series. Essential reading for fans of Bernard Cornwell and Conn Iggulden. Praise for Simon Scarrow's compelling historical novels: 'Gripping and moving' The Times Britannia, AD 43. Bleak, rainy and full of vicious savages, Britannia is a land that Cato, solider of the Second Legion, wishes Rome didn't want to conquer. And as right-hand man to Centurion Macro, Cato sees the very worst of his native Britons, battling alongside his commander in bloodier combat than he could ever have imagined. But the Britons are fighting back with Roman weapons - which means someone in their own ranks is supplying arms to the enemy. Cato and Macro are about to discover even deadlier adversaries than the British barbarians...
Publisher:

Headline Publishing Group

ISBN:

9780755349968

Number of pages:

448

Weight: 380g
Dimensions:

196 x 128 x 34 mm

Awesome sequel, must read!
When reading the first eagle series book "UNDER THE EAGLE" I greatly enjoyed the first book and then set my eyes on the the second one "THE EAGLES CONQUEST...
READ MORE


What more can a book give?
I don't often read or review adult books - as a teenager, I often long for the simplicity of genres that ignore real-life problems. But this series is diff...
READ MORE


The Eagle's Conquest
Fantastic read, Scarrow, in my opinion is up there with the likes of Conn iggulden and bernard cromwell.


Roman history comes alive
Simon Scarrow's Eagle of the Empire series is a superb read on at least 2 levels. The battle scenes are very realistic, and give the reader a sense of the ...
READ MORE