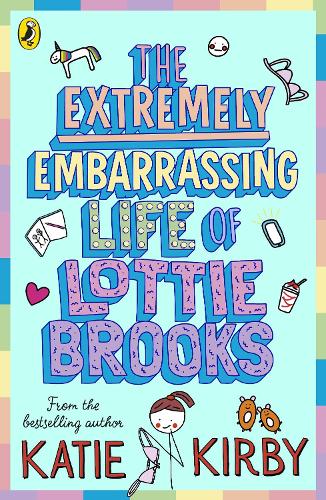 The Extremely Embarrassing Life of Lottie Brooks
Paperback 
Published on: 18/03/2021

Hilarious!
I'm definitely not in the target audience for this one, but oh my word it is brilliant. It had me laughing out loud, and I even went onto Instagram and fou...
READ MORE


IMO the Best Book EVER! LOL
I've read Winterson, Hardy, Austen, the Brontës/ du Maurier, Flaubert, and Roth. Hey: I read English at uni. Never before, though, have I shed a tear on a ...
READ MORE

Synopsis
Lottie Brooks is 11 3/4 and her life is already officially over - not only is she about to start high school without any friends or glamorous swooshy hair, she's just discovered she's too flat-chested to wear A BRA! She might as well give up now and go into hibernation with her hamsters Sir Barnaby Squeakington and Fuzzball the Third. Lottie navigates the many perils of growing up in this fantastically funny new illustrated series for a 9-12 audience, filled with friendship, embarrassing moments and plenty of lols. Hilarious, relatable and full of heart, for fans of funny and chaotic family stories.
Publisher:

Penguin Random House Children's UK

ISBN:

9780241460887

Number of pages:

432

Weight: 344g
Dimensions:

198 x 129 x 28 mm

Hilarious diary about growing up!
Written in the style of Dork Diaries or The Diary of a Wimpy Kid this book introduces us to Lottie Brooks, aged eleven and three quarters. Lottie, like man...
READ MORE


Perfect pre teen reading for girls
Written in the style of Diary of a Wimpy Kid or Dork Diaries this is the perfect pre teen read for girls. Saying that as a 41 year old woman I found it lau...
READ MORE


AMAZING BOOK!
The Extremely Embarrassing Life of Lottie Brooks is absolutely amazing! It is extremely funny and very relatable to teenage girls. I read this in one day a...
READ MORE


A great read for pre teens
Great book for middle grade about the trials and tribulations of the transition from Primary to Secondary (high) school


Can't wait to hear what my granddaughter thinks
The trials and tribulations of a pre-teenage girl. It all sounded so believable. Can't wait to hear what my granddaughter thinks Thanks to Netgalley for a...
READ MORE


Great for pre-teens
Thanks to NetGalley and the publisher for a free e-arc in exchange for an honest review! So obviously, being in my 30s, I'm not the intended audience for ...
READ MORE


Funny and wide book for girls
My 10 year old daughter inhaled this book in a day. It is really funny but has a great message about being true to yourself. Highly recommend.


Loved it!
Poor Lottie! Her best friend Molly has gone to live in Australia, so not only is she completely friendless, she has to put up with her seven-year-old brot...
READ MORE


Lots of fun and laughter
A laugh out loud story that will appeal to a wide audience of young readers. This book covers everything from friendships to growing up, first bras and new...
READ MORE


Brilliant hilarious and very accurate.
Brilliant hilarious and very accurate. Begrudgingly my teenage daughter agreed that it was true to life (but not for her, Obvs!)


OMG recommend it 100%
I was bought the 3rd book as a gift and as soon as I started it I became addicted to her books. This is just a hilarious and relatable book in ways for so ...
READ MORE