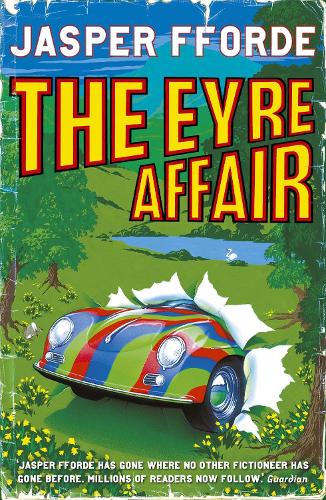 The Eyre Affair: Thursday Next Book 1
Paperback 
Published on: 19/07/2001
Synopsis
The first book in the phenomenally successful Thursday Next series, from Number One bestselling author Jasper Fforde. Meet Thursday Next, literary detective without equal, fear or boyfriend. There is another 1985, where London's criminal gangs have moved into the lucrative literary market, and Thursday Next is on the trail of the new crime wave's MR Big. Acheron Hades has been kidnapping certain characters from works of fiction and holding them to ransom. Jane Eyre is gone. Missing. Thursday sets out to find a way into the book to repair the damage. But solving crimes against literature isn't easy when you also have to find time to halt the Crimean War, persuade the man you love to marry you, and figure out who really wrote Shakespeare's plays. Perhaps today just isn't going to be Thursday's day. Join her on a truly breathtaking adventure, and find out for yourself. Fiction will never be the same again...
Publisher:

Hodder & Stoughton

ISBN:

9780340733561

Number of pages:

384

Weight: 266g
Dimensions:

196 x 152 x 25 mm

The Eyre Affair
This is one of those books that restores your belief that there are still books worth reading out there. This is just so funny that I read in over a couple...
READ MORE


Original storyline
It is 1985, and in a surreal England the arch criminal Acheron Hades has taken to kidnaping literary figures and holding the to ransom. Thursday Next is a ...
READ MORE


The Eyre Affair
This is a wonderful and escapist read, which brings new meaning to the idea of disapperaring into a good book! Hannah Going, Waterstone's Cardholder.


The Eyre Affair
This must be one of the best presents I've ever bought for somebody else! How can you not read a book where the lead character is called Thursday Next? JF...
READ MORE


paperback writer?
Love this book;love the whole series (as well as the Nursery Crimes novels), but why oh why can I not find this edition --with this cover -- in hardcover f...
READ MORE