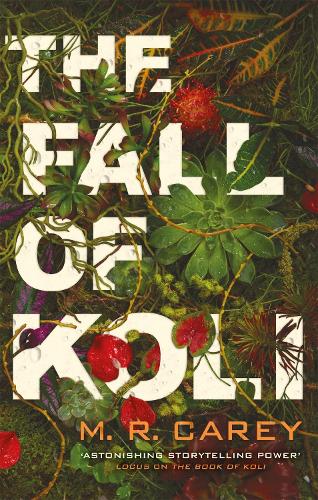 The Fall of Koli: The Rampart Trilogy, Book 3
Paperback 
Published on: 25/03/2021
Synopsis
'WHAT A FANTASTIC ENDING. WHAT A TREMENDOUS ACHIEVEMENT. A GORGEOUS, BORDERLINE FLAWLESS TRILOGY' Seanan McGuire M. R. Carey's Rampart Trilogy is 'an epic post-apocalyptic fable' (Kirkus), set in a future where nature has turned against us. Now, in the breathtaking final chapter, the world that was lost comes back to haunt those who survived - as Koli's journey comes to its astonishing close. Praise for the Rampart Trilogy: 'CAPTIVATING' Kirkus 'GRIPPING, ENGAGING AND ABSOLUTELY WORTH THE TIME IT TAKES TO BURROW YOURSELF INTO ITS REALITY' Seanan McGuire 'MARVELLOUSLY EXPANSIVE AND CLAUSTROPHOBICALLY MENACING' Publishers Weekly 'AN EXCITING POST-APOCALYPTIC COMING-OF-AGE TRILOGY' Shelf Awareness 'TOLD IN AN ENCHANTING, CONFESSIONAL FIRST-PERSON, WE'RE WITH KOLI ALL THE WAY' Daily Mail 'INGENIOUS' Helen Marshall 'THE BEST THING I'VE READ IN A LONG TIME' Joanne Harris 'ASTONISHING STORYTELLING POWER . . . HEARTBREAKING CHOICES, AND SINCERITY LIKE AN ARROW TO THE HEART' Locus The Rampart Trilogy: The Book of Koli The Trials of Koli The Fall of Koli Also by M R Carey: The Girl With All the Gifts The Boy on the Bridge Fellside Someone Like Me
Publisher:

Little, Brown Book Group

ISBN:

9780356513508

Number of pages:

560

Weight: 380g
Dimensions:

196 x 126 x 40 mm

I been to Bermagen, I been to Baron Furnace
I am so pleased the three volumes of the Rampart Trilogy have all been published within a single year. They are compulsive reading, and this final volume i...
READ MORE


This entire trilogy has soaked into my soul
No. No. Nooooooo!! It can't be over. It can't! This entire trilogy has soaked into my soul and I don't know how I'm going to get by without another book in...
READ MORE


The satisfying conclusion to the excellent post-apocalyptic Rampart Trilogy
"Yoshiko Yukawa – the girl that had been so sad for the birds and beasts and flowers all dying that she named herself after that feeling: mo nono aware, th...
READ MORE


Phenomenal read
Continues the story of Koli very well; can't wait for the final book of the trilogy (already presented-ordered).


A must read for anyone who loves character driven books and dystopian worlds
Reading about koli up to this point has been a journey, one that I'm now sad has come to an end. This book is the final book in the trilogy and I couldn't...
READ MORE