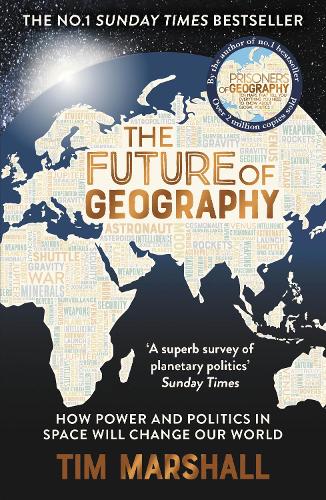 The Future of Geography
Paperback 
Published on: 01/10/2023

Power and politics at warp speed
Giant leaps look good in the history books but does space impact ordinary people? Or is it just a billionaire's playground? Tim Marshall is back to tell us...
READ MORE


An Existential, But Accessible Look into the Future of Geography
I have always been fascinated with space and never more so than now when we as humans find ourselves prepared to properly face the 'final frontier' (onto a...
READ MORE

Synopsis
Spy satellites orbiting the moon. Space metals worth more than most countries' GDP. People on Mars within the next ten years. This isn't science fiction. It's astropolitics. Humans are heading up and out, and we're taking our power struggles with us. Soon, what happens in space will shape human history as much the mountains, rivers and seas have on Earth. It's no coincidence that Russia, China and the USA are leading the way. The next fifty years will change the face of global politics. In this gripping book, bestselling author Tim Marshall lays bare the new geopolitical realities to show how we got here and where we're going, covering the new space race; great-power rivalry; technology; economics; war; and what it means for all of us down here on Earth. Written with all the insight and wit that have made Marshall the UK's most popular writer on geopolitics, this is the essential read on power, politics and the future of humanity.
Publisher:

Elliott & Thompson Limited

ISBN:

9781783967247

Dimensions:

198 x 129 mm

Incredible
I found this book really interesting even though I never usually read this sort of thing! Definitely a very accessible and engaging read.