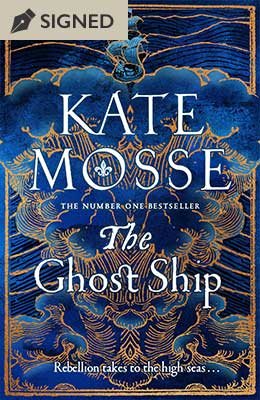 The Ghost Ship: Signed Edition
Hardback 
Published on: 06/07/2023
Synopsis
Piracy. Romance. Revenge. Across the seas of the seventeenth century, two seafarers are forced to fight for their lives. The sequel to The City of Tears, The Ghost Ship is the third novel in The Joubert Family Chronicles from bestselling author Kate Mosse. The Barbary Coast, 1621. A mysterious vessel floats silently on the water. It is known only as the Ghost Ship. For months it has hunted pirates to liberate those enslaved by corsairs, manned by a courageous crew of mariners from Italy and France, Holland and the Canary Islands. But the bravest among them are not who they seem. The stakes could not be higher. If arrested, they will be hanged for their crimes. Can they survive the journey and escape their fate? A sweeping and epic love story, ranging from France in 1610 to Amsterdam and the Canary Islands in the 1620s, The Ghost Ship is a thrilling novel of adventure and buccaneering, love and revenge, stolen fortunes and hidden secrets on the High Seas. Most of all, it is a tale of defiant women in a man's world.
Publisher:

Pan Macmillan

ISBN:

2928377183936

Number of pages:

496

Dimensions:

234 x 153 mm

Exciting continuation of this excellent series!
I was so excited to be granted the third book in this wonderful series which traces the history of The Huguenot Reydon-Joubert family in 17th Century Europ...
READ MORE


Ambitious and Epic Ending to the Burning Chambers trilogy
I'll never pass up a Kate Mosse book and I have invested a lot of time in reading this series, so I was happy to be able to read the concluding book in the...
READ MORE


Pirates on the high seas
Kate Mosse has to be one of the biggest advocates of female authors worldwide but she is also one of our best historical authors. The Ghost Ship is the ...
READ MORE


An absolute adventure!
Kate Mosse does it again, takes you to far off lands long ago with a cracking tale! The characters are well drawn and the historical detail alongside the s...
READ MORE


The ghost ship
Well researched book Fabulous to read. Gripping throughout Would highly recommend.