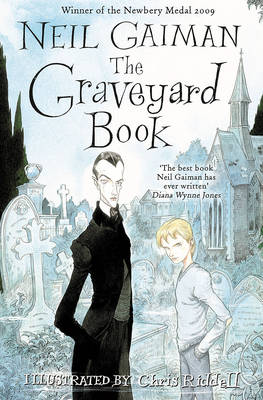 The Graveyard Book: WINNER OF THE CARNEGIE MEDAL 2010
Neil Gaiman

(author)
,
Chris Riddell

(illustrator)
Paperback 
Published on: 05/10/2009
Synopsis
Discover the bewitching, classic children's novel The Graveyard Book by Neil Gaiman, featuring spellbinding illustrations from Chris Riddell WINNER of the 2010 CILIP CARNEGIE MEDAL and the 2009 JOHN NEWBERY MEDAL 'Every page is crowded with invention, both funny and scary' PATRICK NESS 'A tale of unforgettable enchantment' NEW YORK TIMES Nobody Owens, known to his friends as Bod, is a normal boy. He would be completely normal if he didn't live in a graveyard, raised and educated by ghosts. There, living among the dead, Bod discovers that he possesses remarkable magical powers: he can avoid people's notice, scare them, and even invade their dreams. There are dangers and adventures for Bod in the graveyard. But it is in the land of the living that the real danger lurks, for it is there that the man Jack lives - and he has sinister plans for Bod... WINNER OF THE LOCUS YOUNG ADULT AWARD WINNER OF THE HUGO BEST NOVEL PRIZE WINNER OF THE BOOKTRUST TEENAGE AWARD
Publisher:

Bloomsbury Publishing PLC

ISBN:

9780747594802

Number of pages:

304

Weight: 215g
Dimensions:

198 x 129 mm

Gripping from start to finish
Excellent book first Neil Gaiman read and now hooked. Keeps reader intrested throughout story and is thrilling and chilling. Great mix of childrens horror ...
READ MORE


Another gem from Gaiman
I love Neil Gaiman books, and was not disappointed by this! It's got a fantastic storyline and is peopled with enjoyable characters, set against a weird an...
READ MORE


Brilliant
My 10 year old daughter read this book in a day. She was totally absorbed. I then read it myself and couldn't put it down.


The Graveyard Book
well written, humerous and darkly delightful. Gaiman doing what he does best!


The Graveyard Book - Neil Gaiman
The Graveyard Book in one tweet sized chunk: The Graveyard Book is one of those terrifyingly creepy and yet thoroughly normal books which charm adults and ...
READ MORE


Original stuff
Extremely well-written and loved it. Would have given it 5 stars but I found the ending to be a little weak (won't give it away by explaining why).


Intense urban fantasy
As his parents are being murdered, by a nasty character called Jack, Nobody Owen slips out of the house, and toddles off, ending up in the graveyard. Silas...
READ MORE


Fabulous book!
This book is wonderful and had my kids - 8 and 5 years of age - hooked from the first page, asking lots of questions and demanding I continue reading. I ca...
READ MORE


BEST BOOK EVERRR
When i tell you i gasped . omg this book is so well written. full of comedy adventure and horror this book pulled me into the world of Neil Gaiman . a bea...
READ MORE