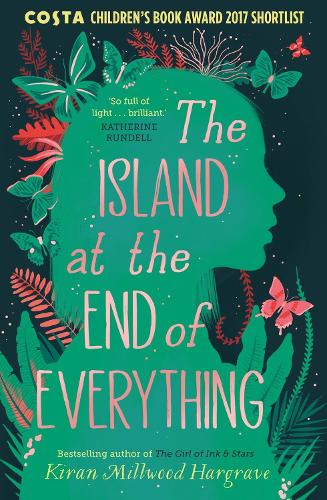 The Island at the End of Everything
Kiran Millwood Hargrave

(author)
Paperback 
Published on: 04/05/2017

Stunning
After reading The Girl of Ink and Stars, I just had to get my hands on something else by this author. It was beautiful, as expected. Poetical writing, perm...
READ MORE


Friendship and sadness combine in an excellent book
Based on a real island in the Philippines, Kiran tells the story of Amhi, a young girl who's mother is Touched (has leprosy). Different from her previous s...
READ MORE

Synopsis
Cover may vary. Shortlisted for the 2017 Costa Book Awards Children's Award The Waterstones Children's Book Prize winning author returns with a tale of deeply inspiring and selfless courage. There are some places you would not want to go. Even if I told you that we have oceans clear and blue as summer skies, filled with sea-turtles and dolphins, or forest-covered hills lush with birds that call through air thick with warmth. Even if you knew how beautiful the quiet is here, clean and fresh as a glass bell ringing. But nobody comes here because they want to. Amihan lives on Culion Island, where some of the inhabitants - including her mother - have leprosy. Ami loves her home - with its blue seas and lush forests, Culion is all she has ever known. But the arrival of malicious government official Mr Zamora changes her world forever: islanders untouched by sickness are forced to leave. Banished across the sea, she's desperate to return, and finds a strange and fragile hope in a colony of butterflies. Can they lead her home before it's too late? Kiran Millwood Hargrave is an award-winning poet and novelist who lives in Oxford. A Cambridge University graduate, she performed plays with the Footlights and has performed her poetry in venues across the world. She was only twenty six years old at the time her debut, The Girl of Ink & Stars, was published and the book went on to win The Waterstones Children's Book Prize 2017. The Island at the End of Everything is her second novel.
Publisher:

Chicken House Ltd

ISBN:

9781910002766

Number of pages:

256

Weight: 190g
Dimensions:

200 x 142 x 18 mm

A stunning novel of friendship, family and love; Millwood Hargrave strikes again!
This last year has been a pretty wonderful one for writer Kiran Millwood Hargrave. Her first novel The Girl of Ink and Stars was published and instantly ma...
READ MORE


A piece of magic in book shape that will win the hearts and imaginations of many readers
Ami lives on a beautiful island in the middle of the ocean. Except, while the vegetation might be lush and the ocean full of fish, the island and the peopl...
READ MORE