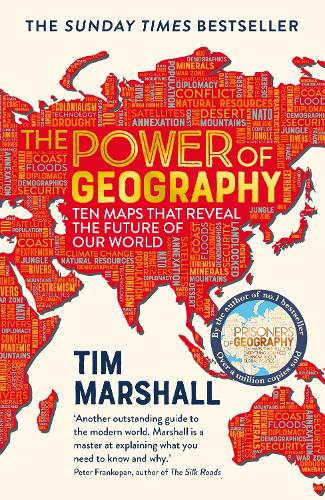 The Power of Geography: Ten Maps That Reveal the Future of Our World
Paperback 
Published on: 01/10/2021
Synopsis
Our Fiction Book of the Month for October 2021 Tim Marshall's global bestseller Prisoners of Geography showed how every nation's choices are limited by mountains, rivers, seas and concrete. Since then, the geography hasn't changed. But the world has. In this revelatory new book, Marshall explores ten regions that are set to shape global politics in a new age of great-power rivalry: Australia, Iran, Saudi Arabia, the UK, Greece, Turkey, the Sahel, Ethiopia, Spain and Space. Find out why Europe's next refugee crisis is closer than it thinks as trouble brews in the Sahel; why the Middle East must look beyond oil and sand to secure its future; why the eastern Mediterranean is one of the most volatile flashpoints of the twenty-first century; and why the Earth's atmosphere is set to become the world's next battleground. Delivered with Marshall's trademark wit and insight, this is a lucid and gripping exploration of the power of geography to shape humanity's past, present - and future.
Publisher:

Elliott & Thompson Limited

ISBN:

9781783966028

Dimensions:

198 x 129 mm

Predictably very interesting, expert & wide-ranging analysis
I look forward vey much to reading Tim Marshall's work whether it be on geo-politics or football. He has a very wide-ranging expertise and writes superbly...
READ MORE


Lucid and entertaining
A very readable run through the history of a number of key nations, focusing in how geography has played a part in their development and current, potential...
READ MORE


Excellent book
I really enjoyed reading the book. Well documented, it explain so well the geography and history of all conflicts in different countries.


A Fascinating, Accessible & Insightful Exploration of What Topography Can Tell Us About Power
Similar to Prisoners of Geography The chapters on Greece, Turkey, Iran were very good. There is an interesting mix of history facts and geography facts. I ...
READ MORE


A perfect overview
As with much of Marshall's work, The Power of Geography is a wonderfully engaging introduction to modern geopolitics and is an excellent starting point for...
READ MORE