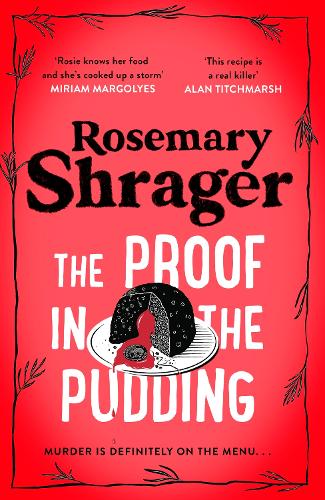 The Proof in the Pudding: Prudence Bulstrode 2
Rosemary Shrager

(author)
Hardback 
Published on: 23/02/2023
Synopsis
Preparing a midwinter's feast for all hundred residents of the little Yorkshire village of Scrafton Busk is exactly the kind of challenge Prudence Bulstrode adores. A chance to show off her muffin-topped winter stew, lamb shank hotpot and Scarborough woof - and, of course, her famous figgy pudding - is just the thing to shake off the winter blues. But on the night of the feast, local vagabond Terry Chandler is found dead - his body entombed in the pristine snowman standing pride of place on the village green. Who could have wanted Chandler dead? Why would they stow his body in such strange circumstances? And what is the meaning of his last enigmatic message, directing his brother to Mystery Hills, a place of which no one has ever heard? Crime and cookery continue to collide as Prudence and her granddaughter Suki get drawn into another mystifying murder.
Publisher:

Little, Brown Book Group

ISBN:

9781472135377

Number of pages:

352

Weight: 562g
Dimensions:

236 x 166 x 36 mm

A Brilliant Yorkshire-based Cozy
Sixty-odd-year-old Prudence Bulstrode is a retired chef and cookery show tv presenter who used to host Prudence's Home Bakes as well as Prudence's Voyages....
READ MORE


Thrilling Tale
Another excellent and well written tale for Prudence Bulstrode and her granddaughter Suki. The descriptions of the food are very well described. It certai...
READ MORE


Prudence my new favourite cozy crime heroine
Really enjoying Rosemary's new cozy crime series likeable characters and terrific plot. Love Prudence helping out at Tan Inn pub - very funny.


Wonderful Yorkshire mystery
Professional celebrity cook Prudence Bulstrode cooks the most wonderful food whilst helping the police solve the murder of Terry Chandler found entombed in...
READ MORE


Genuinely entertaining cosy crime
Prudence Bulstrode, TV chef and 'National Treasure', has been hired by an energy company to cook a feast meant to soften up the locals in the village where...
READ MORE