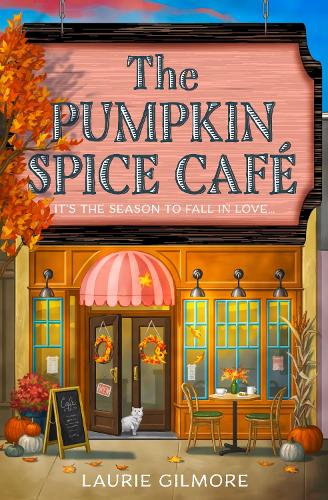 The Pumpkin Spice Café
Paperback 
Published on: 31/08/2023

Over-Hyped But Still Cute
I have to be honest, my expectations were high for this one given how popular it was on social media and the fact that autumn is my favourite season...howe...
READ MORE


The Perfect Cosy Read
Set in an idyllic Stars Hollow-esque small town in New England, this autumnal romance about a big city girl inheriting and attempting to run a pumpkin-them...
READ MORE


Perfect cosy romance
The perfect cosy, autumnal read! This book was the perfect small town romance read, the characters were all so well defined and I couldn't put it down.


Perfect Autumnal Read
A lovely cosy read with a touch of spice, full of fabulous characters. A book you could walk into and sit down.


Perfect fall book
The Pumpkin Spice Cafè was the perfect fall book. It is an easy- read cosy romance with a bit of spice! Perfect for a raining day! Looking forward to readi...
READ MORE


Fun pick-me-up!
It's a fast-paced romance and a good pick-me-up read if you are in a slump. It's light-hearted and cosy. That said, the story and characters could've been ...
READ MORE


Light, frothy and spicy!
A great seasonal read, small town dynamics, likeable characters and a hint of spice!


Cute and Quick Read
I'm not usually a reader of insta-love style books but this had me hooked. It's so cute and perfect autumn vibes! Small town, pumpkin spice - and extra spi...
READ MORE

Synopsis
When Jeanie's aunt gifts her the beloved Pumpkin Spice Cafe in the small town of Dream Harbor, Jeanie jumps at the chance for a fresh start away from her very dull desk job. Logan is a local farmer who avoids Dream Harbor's gossip at all costs. But Jeanie's arrival disrupts Logan's routine and he wants nothing to do with the irritatingly upbeat new girl, except that he finds himself inexplicably drawn to her. Will Jeanie's happy-go-lucky attitude win over the grumpy-but-gorgeous Logan, or has this city girl found the one person in town who won't fall for her charm, or her pumpkin spice lattes... The Pumpkin Spice Cafe is a cozy romantic mystery for fans of Gilmore Girls, with a grumpy x sunshine dynamic, a small-town setting and a HEA guaranteed! Tropes: - grumpy x sunshine - small town - found family Readers have fallen for Dream Harbor, will you?
Publisher:

HarperCollins Publishers

ISBN:

9780008610678

Number of pages:

384

Weight: 260g
Dimensions:

198 x 129 x 26 mm

Pumpkin Spice Perfection
Grumpy/Sunshine meets cozy romantic mystery? 100% yes! This was absolutely adorable and I loved every single page! We follow Jeanie who has recently move...
READ MORE


Cute and Cozy read
The Pumpkin Spice Cafe was such a cute and cozy read. I loved the fall theme to it and it came across so well. The trope for this book is Grumpy x Sunshine...
READ MORE


Amazing
Just finished reading yesterday, such a good read can't wait for her second book now


Gets you in the mood for Autumn!
I loved this book! The cozy small town setting was enlivened by the eccentric secondary characters - I especially loved the idea of the book club members t...
READ MORE


A Cute Autumnal read
What a cute Autumnal read! Small town, fresh starts and nosy neighbours. Logan a rugged small town farmer with a great heart, has had that heart broken...
READ MORE