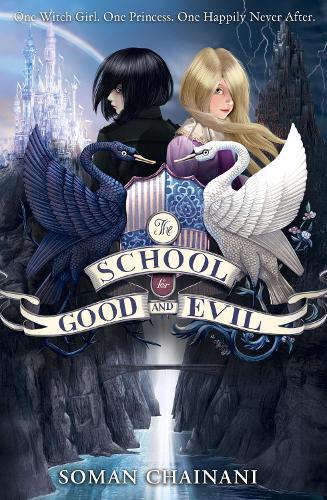 The School for Good and Evil
Paperback 
Published on: 06/06/2013
Synopsis
The School for Good and Evil will soon be a major motion picture from Netflix, starring Academy Award winner Charlize Theron, Kerry Washington, Laurence Fishburne, Michelle Yeoh, Cate Blanchett, and many more! Every four years, two girls are kidnapped from the village of Gavaldon. Legend has it these lost children are sent to the School for Good and Evil, the fabled institution where they become fairytale heroes or villains. With her glass slippers and devotion to good deeds, Sophie knows she'll join the ranks of past students like Cinderella, Rapunzel, and Snow White at the School for Good. Meanwhile, Agatha, with her black dresses and wicked cat, seems a natural fit for the villains in the School for Evil. But the two girls soon find their fortunes reversed - Sophie's dumped in the School for Evil to take Uglification, Death Curses and Henchmen Training, while Agatha finds herself in the School for Good, thrust among handsome princes and fair maidens for classes in Princess Etiquette and Animal Communication. But what if the mistake is actually the first clue to discovering who Sophie and Agatha really are?
Publisher:

HarperCollins Publishers

ISBN:

9780007492930

Number of pages:

496

Weight: 340g
Dimensions:

198 x 129 x 31 mm

Brillant
When I opened this book, and started reading it, I fell instantly in love with it. The book is so great that I could never put it down, and when I had to, ...
READ MORE


Get ready for a new favourite book!
This is now in my top three favourite books EVER! This book could have been written for me! Every page was perfect from the dark graveyard with its twisti...
READ MORE


The School for Good and Evil
In this book we meet Sophie and Agatha, two girls who are stolen away to attend the School for Good and Evil. Sophie wants to go to the School for Good and...
READ MORE


Couldn't put it down!!
I love books that are mysterious and magical but I loved this so much I ended up finishing in one day. Was worth it and the price is amazing.


Review by Natalya age 12
It all started when the book came. When I turned the first page. When my eyes widened with disbelief in how good the book was. When I couldn't put it down....
READ MORE


Best magical academia since HP!
Harry Potter + Game of Thrones + everything you've always been told about fairy tales! Agatha is invisible in the town of Gavaldon. Just her cat Reaper...
READ MORE


Loved it. Totally reccomended
I loved this book, it is one of those books that you can't put down. I will be buying the whole series now that I know that I liked it. Deffintley reccomen...
READ MORE


Best. Book. Ever.
For anyone that has watched the movie on netflix but not read the book. Go. Buy. It. Now. And read it obviously. I read this a few years ago and fell in lo...
READ MORE


My favourite series ever
I first read the book in my senior school and instantly fell in love. The way the two ' main characters ' are built and molded throughout is a wonderful re...
READ MORE


Welcome to a magical fairy tale
I've been meaning to reading this for a long long time, it's been under my daughters bed even longer! I loved this book, and although it is middle grade, i...
READ MORE