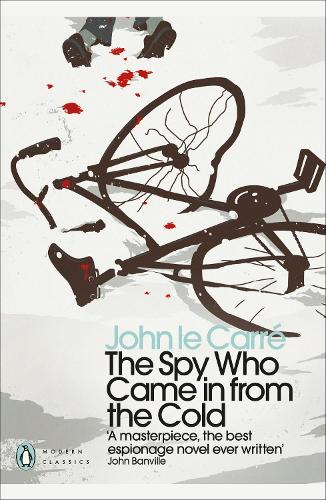 The Spy Who Came in from the Cold
John le Carré

(author)
,
William Boyd

(author of introduction)
Paperback 
Published on: 29/07/2010

The Perfect Spy Novel
Get an image in your head of the perfect spy novel. Picture high up Government Agencies constantly watching you. Picture men single handedly trying to brin...
READ MORE


The Greatest Spy Story
The story is set at the height of the Cold War, just after the Berlin Wall has gone up. Alex Leamus, the Station Head, has been asked to do one last job, a...
READ MORE

Synopsis
This is a war… It's graphic and unpleasant because it's fought on a tiny scale, at close range; fought with a wastage of innocent life sometimes, I admit. But it's nothing, nothing at all beside other wars – the last or the next." Alex Leamas is tired. It's the 1960s, he's been out in the cold for years, spying in the shadow of the Berlin Wall for his British masters. He has seen too many good agents murdered for their troubles. Now Control wants to bring him in at last - but only after one final assignment. He must travel deep into the heart of Communist Germany and betray his country, a job that he will do with his usual cynical professionalism. But when George Smiley tries to help a young woman Leamas has befriended, Leamas's mission may prove to be the worst thing he could ever have done. The Spy Who Came in From the Cold is one of the most popular and influential spy novels in literary history, and its success upon publication in 1963 earned John Le Carré acclaim rivalled only by Ian Fleming. 'He can communicate emotion, from sweating fear to despairing love, with terse and compassionate conviction. Above all, he can tell a tale.' Sunday Times
Publisher:

Penguin Books Ltd

ISBN:

9780141194523

Number of pages:

304

Weight: 224g
Dimensions:

198 x 129 x 17 mm

A favourite.
I have tried other books which I found a hard read but this was quite enjoyable.I finished reading this in a few days.


The first and best of Its type.
This is a very quick read which is a classic for very good reason. It is about a reluctant and disgruntled Cold War era spy that gets dragged into one la...
READ MORE