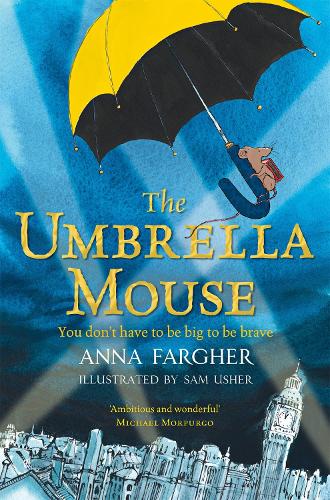 The Umbrella Mouse
Anna Fargher

(author)
,
Sam Usher

(illustrator)
Paperback 
Published on: 02/05/2019
Synopsis
Our Children's Book of the Month for June 2019 A timeless tale of courage, resistance and friendship, The Umbrella Mouse is a heart-stopping adventure drawing on the true stories of animals caught in the conflict of WWII. 1944, and London is under attack. Young mouse Pip Hanway's safe and quiet world is turned upside down when her home, umbrella shop James Smith & Sons, is destroyed by a bomb. Orphaned and alone, she must begin a perilous quest to find a new home. But the only way to get there is by joining Noah's Ark, a secret gang of animals fighting the resistance in France, operating beneath the feet of the human soldiers. Danger is everywhere and as the enemy closes in, Pip must risk everything to save her new friends. Beautifully illustrated by Sam Usher, Anna Fargher's debut novel takes you on an incredible journey through a war that reaches even the smallest of creatures.
Publisher:

Pan Macmillan

ISBN:

9781529003970

Number of pages:

288

Weight: 254g
Dimensions:

198 x 130 x 22 mm

Wonderful animal adventure set in WW2
Follow a courageous, fierce and loyal mouse as her adventures change; from night-time exploring round a comfy home while her parents sleep, to battling wit...
READ MORE


Disney Movies need to read this!
Thank you to the publishers for this review copy. I absolutely loved it, I really hope that one day this is a brilliant Disney Movie! Delightful in everywa...
READ MORE


A Brilliant Story and a Mouse with Attitude.
Inspired by real-life animals, this is a stunning WWII story from the POV of a mouse with some serious spunk and attitude. Loved the story. Loved the chara...
READ MORE


A gripping wartime animal adventure
We loved this book in our house! It's one of those rare books that can utterly delight child readers of all ages...and adult readers too. We read it aloud ...
READ MORE


World War 2 historical fiction with animals
This is a fantastic book that works well on many levels. Firstly, it's a simply great adventure story, following the difficulties faced by the main charac...
READ MORE


A captivating tale!
A captivating tale of bravery, friendship and heart stopping adventure set during WW2. Can't wait to read the sequel!


A thrilling adventure of friendship and courage set in WWII
This afternoon, my class of Year 5s started their new topic on World War II, focusing specifically on the Battle of Britain. Ahead of this, I started readi...
READ MORE


Highly Recommend
The Umbrella Mouse is an exciting espionage thriller set towards the end of the Second World War. It is a story about a young mouse who is orphaned and lef...
READ MORE


The Umbrella Mouse Is A New Children's Classic
In The Umbrella Mouse Anna Fargher blends friendship and bravery, tragedy and loss, desperate causes and daring escapes into a wonderful adventure. The sto...
READ MORE