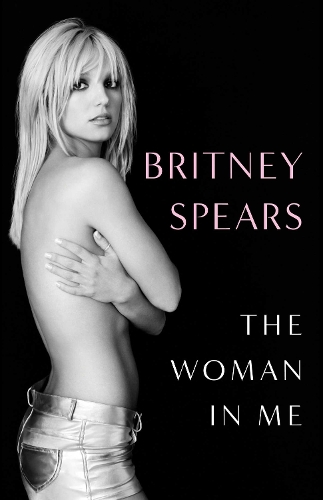 The Woman in Me
Hardback 
Published on: 24/10/2023
Synopsis
Arguably one of the most important biographies – not just as a celebrity memoir – of our time, Britney Spears' unflinching account of her life as a pawn both of an industry and the powerful men in her own personal circle is an extraordinary survival story that shines a light on corruption and exploitation in the music business.
Synopsis
The Woman in Me is a brave and astonishingly moving story about freedom, fame, motherhood, survival, faith, and hope. In June 2021, the whole world was listening as Britney Spears spoke in open court. The impact of sharing her voice-her truth-was undeniable, and it changed the course of her life and the lives of countless others. The Woman in Me reveals for the first time her incredible journey-and the strength at the core of one of the greatest performers in pop music history. Written with remarkable candor and humor, Spears's groundbreaking book illuminates the enduring power of music and love-and the importance of a woman telling her own story, on her own terms, at last.
Publisher:

Simon & Schuster Ltd

ISBN:

9781398522527

Number of pages:

288

Dimensions:

234 x 153 x 25 mm

Stunning… finally she has her voice!
I've been eagerly anticipating this book long before it was announced. In her 2008 documentary, when asked what she has to say to people who say she hasn't...
READ MORE


Her voice, finally!
To sum this up in a nutshell would be a direct insult to Britney and the battles she has fought to survive. Even if you are not a fan of hers (as I am), yo...
READ MORE


Heartwarming and Breaking...
The easiest 5 stars I've given!!! I bought it yesterday and finished it tonight haha. I couldn't put it down. I am in awe of Britney's strength despite e...
READ MORE


Emotional
"Fame? That world isn't real, my friends. It's. Not. Real." Oh Britney! It's hard not to feel incredibly sorry for her and everything she's had to endu...
READ MORE


Such a good book
I felt your pain


BRITNEY SPEARS SPILLS THE TEA
So much TRUTH in this book that I realized how misunderstood Britney Spears was and still is today. I will always be a fan of her. This book is worth a rea...
READ MORE


3 versions
I have purchased this book, but apparently there are three versions? I know there are differences in the front cover, underneath the sleeve. One has nothi...
READ MORE


An amazing read!
I had pre-ordered this book as I've been a Britney fan since day 1 and I was so excited to read it. I was not disappointed by this book. I'd watched her gr...
READ MORE


Highly recommended
I cannot stop reading! As a big fan of Britney back in 2000s I must have read it. I am half way through the book and can honestly say I now understand what...
READ MORE


Long awaited!
Couldn't put this book down! Great to finally hear her story in her words. Absolutely unbelievable the trauma she went through, and walking with her head t...
READ MORE


Her strength is so empowering
Best book i have ever read in my life very hard to put down as soon as you start reading it. What she gone through and how she has come through it all is s...
READ MORE


A review
This is truly a book


V fast read
The font is v big & the margins large. It does give you a bit of an insight into Britney's life and it's interesting, but it feels like a lot of informatio...
READ MORE