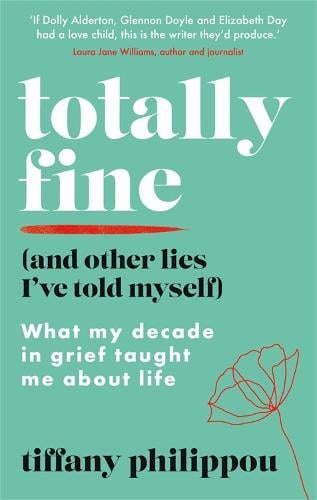 Totally Fine (And Other Lies I've Told Myself): What my Decade in grief taught me about life
Tiffany Philippou

(author)
Paperback 
Published on: 17/03/2022
Synopsis
'If Dolly Alderton, Glennon Doyle and Elizabeth Day had a love child, this is the writer they'd produce.' Laura Jane Williams, author and journalist. Stylist's Must Read Book for 2022 Evening Standard's Faces to Watch in 2022 Shame is a monster that grows inside us. We all have the monster, it's what we decide to do with it that determines how we live our lives. This is my story... One day in the summer of 2008, I was sat on a train travelling back to London from a weekend of partying with friends when I received a phone call that suddenly changed everything. I was told my boyfriend Richard was in hospital. He died seven days later. I spent most of my twenties pretending this never happened. It has taken me a decade to be able to tell this story, just as it has taken me years to understand that there is no right way to grieve and no right way to live. In our twenties, we are thrown into the adult world without a guidebook. It's a decade that should be about adventure and discovery, so why does it feel catastrophic when we fail? How are we expected to have mastered our lives in such a short amount of time? Saying my shame out loud has made me feel more connected to people in my life. I hope that my story will make you feel less alone, too. It is only by sharing our stories that we can give a voice to the unspoken. Whatever pain you're holding on to, I'm writing this for you. 'I wish I'd had this book to guide me into adulthood.' Sathnam Sanghera, bestselling author of Empireland and The Boy with the Topknot 'Will go a long way to helping those struggling with the stigma and shame that, sadly, persistently surrounds mental health.' Vicky Spratt, Refinery29
Publisher:

Octopus Publishing Group

ISBN:

9781909770720

Number of pages:

240

Weight: 208g
Dimensions:

196 x 126 x 22 mm

Heartbreaking
This book is the story of Tiffany's grief that she went through over a period of 10 years. I must be honest, and say that I found the book hard to listen ...
READ MORE


Powerful memoir about dealing with grief
"Shame is a monster that grows inside us. We all have the monster, it's what we decide to do with it that determines how we live our lives. This is my stor...
READ MORE